CWDM Resource Center
White Paper: iConverter CWDM Design Guide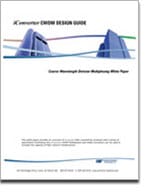 The iConverter CWDM Design Guide is a comprehensive, step-by-step guide to designing CWDM networks with iConverter CWMD modules, media converters, transponders and SFPs.
This document reviews a variety of topologies and configurations in detail with product model numbers, and provides examples of how to calculate optical budgets for CWDM networks.
Download this a valuable resource for network designers implementing CWDM in telecom, municipal, utility and enterprise networks.
Complete the form to the right to download this white paper.
Video Tutorial: Increasing Fiber Capacity with CWDM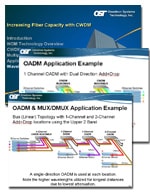 Demand for new applications, more bandwidth and more connectivity is stretching the capacity of fiber network links. Coarse Wavelength Division Multiplexing (CWDM) is a proven and cost-effective solution for increasing fiber capacity in Service Provider access networks.
CWDM design principles you will take away from this 60-minute, online video tutorial:
Optimizing the CWDM spectrum for different types of fiber cabling
Integrating CWDM with legacy equipment and wavelengths
Overlaying CWDM wavelengths onto SONET/SDH ring network
Designing CWDM point-to-point access links with add and drop locations
Complete the form to the right to download this video tutorial.
CWDM Case Study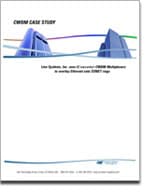 This case study reviews how Line Systems, Inc., a full-service communications consulting firm, added Gigabit Ethernet services by overlaying data channels on their existing SONET network with CWDM Multiplexers.
Complete the form to the right to download this case study.