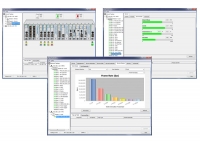 NetOutlook SNMP Network Management Software
for the iConverter Product Family

NetOutlook Standard Edition
Intuitive Graphical User Interface (GUI) provides configuration, monitoring and reporting of iConverter modules and chassis
Real-time trap notification provides network status to identify specific network problems and their locations
Supports SNMPv1, SNMPv2c and SNMPv3
IP-less management with IEEE 802.3ah and Omnitron's Secure OAM management channels
Comprehensive Port MIB statistics in graphical format and 802.3ah performance monitoring
Reporting of optical performance statistics for SFP transceivers equipped on iConverter modules
SNMP Device Discovery utility that automatically detects iConverter chassis and modules on the network
Copy and Paste or Save and Load module configurations for rapid chassis configuration and reconfiguration
A Print Utility for printing module status and configuration information
Free lifetime upgrades and 24/7 Technical Support
NetOutlook Carrier Ethernet Edition
Includes all functionality of the Standard Edition and adds management, provisioning and reporting of iConverter GM3 NID, GM4 NID and HybridNID® for business services and mobile backhaul:
Zero-Touch Provisioning
RFC 2544 and ITU-T Y.1564 Service Testing
IEEE 802.1ag Connectivity Fault Management
ITU-T Y.1731 Performance Monitoring
ITU-T G.8031 and G.8032 Protection Switching
NetOutlook Network Management Software is a robust and secure network management application for the iConverter Multi-Service Platform. NetOutlook provides remote management of iConverter media converters, Network Interface Devices (NIDs), T1/E1 and CWDM Multiplexers.
NetOutlook has an intuitive Graphical User Interface (GUI) that provides the ability to remotely monitor network performance, configure hardware parameters, provision services, generate performance reports and perform advanced fault detection.
NetOutlook is used by Service Providers, Enterprises and Governments to leverage the full capabilities of the iConverter multi-service platform:
Lowers operating costs with remote configuration and provisioning which reduces technician trips to equipment
Improves network reliability with performance monitoring, fault detection and isolation tools
Increases end user/subscriber satisfaction with comprehensive performance monitoring
Management of iConverter chassis and modules is achieved by adding an iConverter Network Management Module (NMM2) or a Network Interface Device (NID) with built-in management to the chassis. An iConverter NID can manage an iConverter chassis of modules, or manage itself as a standalone unit.
NetOutlook Standard Edition provides configuration, monitoring and reporting for all iConverter modules and chassis. The Standard Edition supports IEEE 802.3ah and IP-less management when used with iConverter NIDs.
NetOutlook Carrier Ethernet Edition supports all the functionality of the Standard Edition, and adds advanced Service Management functionality for the iConverter GM3 and GM4 NIDs.
Standard Edition
NetOutlook is a powerful Graphical User Interface (GUI) that serves as a single integrated point of access to the entire suite of iConverter products. Chassis and module functionality is accessible through NetOutlook including configuration, troubleshooting, maintenance and performance monitoring.
IP-Less Management
Omnitron's secure IP-Less remote management channel allows management of a large number of modules and chassis through one IP address. It also provides an added level of security for the management channel that is not affected by end-user actions or traffic on the system. The IP address is isolated to a physically secure management station at the network core, and does not exist on the fiber link or on the Network Interface Device at the network edge.
Fault Notification
NetOutlook provides real-time visibility into the operational state of iConverter equipment:
Hardware/Software Configuration Change
Security Events
Primary/Secondary Link Up/Down Notification
Dying Gasp Notification
All monitored events are logged and accessible through NetOutlook.
Remote Configuration
NetOutlook allows remote configuration of all product functionality:
VLAN membership assignments
Quality of Service (QoS) prioritization, Port Access Control, Bandwidth Control
Auto-Negotiation and Duplex Modes
Link Fault Detection Modes
NetOutlook allows network parameters to be remotely configured from a single location, providing a convenient and time-saving solution for large-scale deployments.
Network Monitoring
NetOutlook provides a graphical display of RMON statistics, including bandwidth utilization and network performance, link and data receive/transmit status. 802.3ah Performance Monitoring provides the detection and notification of link performance (quality) faults. NetOutlook can also report optical performance statistics from Small Form Pluggables (SFPs).
Carrier Ethernet Edition
NetOutlook Carrier Ethernet Edition adds the ability to manage, provision and monitor Carrier Ethernet mobile backhaul and business services. NetOutlook Carrier Ethernet Edition supports all features in the Standard Edition, and adds Service Management functionality.
Provisioning of Service Parameters
The NetOutlook Carrier Ethernet Edition supports remote provisioning of Ethernet Virtual Connections (EVCs), including 802.1ad Provider Bridge VLAN stacking (Q-in-Q) for service multiplexing, Class of Service (CoS), granular rate-limiting, per-flow service mapping and traffic policing and shaping. Zero-Touch Provisioning (ZTP) allows providers to achieve efficiencies in service activation that accelerate turn up and reduce the need for on-site technicians. ZTP allows service provisioning to be centralized, standardized and remotely managed.
Service Testing and Validation
When used with the GM4 NID, the Carrier Ethernet Edition provisions ITU-T Y.1564 and RFC 2544 service testing to rapidly verify the configuration and performance of Ethernet services prior to customer hand off.
ITU-T Y.1731 Performance Monitoring
The Carrier Ethernet Edition can be used to monitor and generate reports for key SLA parameters, including Frame Delay, Frame Delay Variation, Frame Loss and Availability.
IEEE 802.1ag Connectivity Fault Management (CFM)
IEEE 802.1ag Connectivity Fault Management (CFM) proactively monitors service availability and provides tools for rapid fault isolation.
ITU-T G.8031 and G.8032 Protection Switching
The Carrier Ethernet Edition can be used to configure G.8031 Ethernet Linear Protection Switching and G.8032 Ethernet Ring Protection Switching for sub-50ms redundancy fail over.
Model
Description
8100-0
NetOutlook Standard Edition for Enterprises and Service Providers
(single User License)
8100P-0
NetOutlook Carrier Ethernet Edition for delivering Carrier Ethernet
Business Services (single User License)
8000N-0
SNMP and Telnet Management Module (NMM2)
System Requirements
Microsoft compatible PC with Microsoft Windows 2000/2003/ XP/Vista/Windows7 and an Ethernet Network Interface Card.