Metro Ethernet Forum Certifications
The Metro Ethernet Forum (MEF) is global industry alliance of more than 200 organizations including telecommunications service providers, network equipment manufacturers, semiconductors vendors and testing organizations.
The MEF's mission is to accelerate the worldwide adoption of Carrier-class Ethernet by developing Carrier Ethernet technical specifications to promote interoperability and deployment of Carrier Ethernet.
MEF certification is the globally recognized and trusted reference for Carrier Ethernet equipment standardization. Since 2006, the program has delivered hundreds of certifications throughout the world's major and fastest growing telecom markets, allowing equipment vendors to respond to the service provider's demand for MEF-compliant Carrier Ethernet products and solutions.
Testing is performed by Iometrix, Inc., a leading independent testing lab, on behalf of the MEF.
Carrier Ethernet 2.0 Certification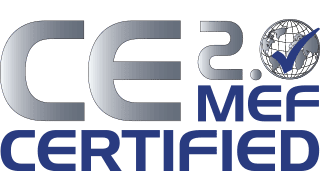 The Metro Ethernet Forum (MEF) announced Carrier Ethernet 2.0 as the next generation in the evolution of Ethernet services. This next generation is defined as "networks and services that enable multiple Classes of Service and manageability over interconnected provider networks". These three service attributes of Multiple Classes of Service (Multi-CoS), Manageability and Interconnect reflect major new capabilities of E-Line and E-LAN services, as well as the addition of new E-Tree and E-Access services.
iConverter® Network Interface Devices (NIDs) are certified compliant to deliver Carrier Ethernet 2.0 services, and support the three attributes of Multiple Classes of Service (Multi-CoS), Manageability and Interconnect.
MEF 9 Certification
The iConverter platform is certified for all three portions of the MEF 9 test suite, including Ethernet Private Line, Ethernet Virtual Private Line and Ethernet LAN services. Private Line and Virtual Private Line services provide point-to-point Ethernet connectivity, while Ethernet LAN services are used to interconnect multiple sites. These services are typically used by bandwidth hungry business customers for voice, video and data connectivity between facilities, campuses and remote sites.
MEF 14 Certification
The iConverter platform is certified for MEF 14 Service Performance and Bandwidth Profiles that enable the support of Service Level Agreements (SLAs). Service Performance attributes relating to Ethernet Virtual Circuits (EVC) include Frame delay, Frame Delay Variation and Frame Loss Ratio. Bandwidth profile attributes include Committed Information Rate (CIR), Committed Burst Size (CBS), Excess Information Rate (EIR), and Excess Burst Size (EBS).
MEF 21 Certification
iConverter Network Interface Devices (NIDs) are certified compliant to the MEF 21 conformance and certification test process for Link Operation, Administration and Maintenance (OAM) that defines fault detection and testing functions for individual network links. These functions include Link Event Notification, Variable Request & Response, Loopback Control and Organization Specific extensions for management and proprietary device provisioning. MEF 21 includes automated processes for managing services and fault monitoring at the User Network Interface (UNI) level.
NEBS Level 3 Certification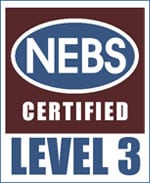 The iConverter managed Network Interface Device and media converter product line achieved NEBS Level 3 certification after months of rigorous testing. The product line is now fully certified for deployment by telecommunication carriers.
The certification process involves an extensive suite of tests designed to evaluate telecommunications network equipment in a variety of environmental conditions. Products are tested in several areas to ensure continued operation under extreme operating conditions for performance, including:
Electromagnetic interference
Surge protection
Flammability
Shock Resistance
Heat Dissipation
Telecommunications service providers rely on NEBS certification to ensure the operating performance and safety of equipment deployed in their network facilities. NEBS Level 3 certification is defined by Telcordia and describes extensive physical performance criteria for telecommunications equipment.