iConverter® Ethernet Switches
iConverter Ethernet switches are available as compact unmanaged standalone devices, or as managed chassis plug-in modules that support VLAN and QoS. Chassis plug-modules feature Ethernet backplane ports for connectivity to managed media converters in a variety of chassis configurations. iConverter Ethernet switch modules are available in industrial -40º to 75ºC operating temperature range. All Omnitron Systems switches are backed with a lifetime warranty and free 24/7 technical support.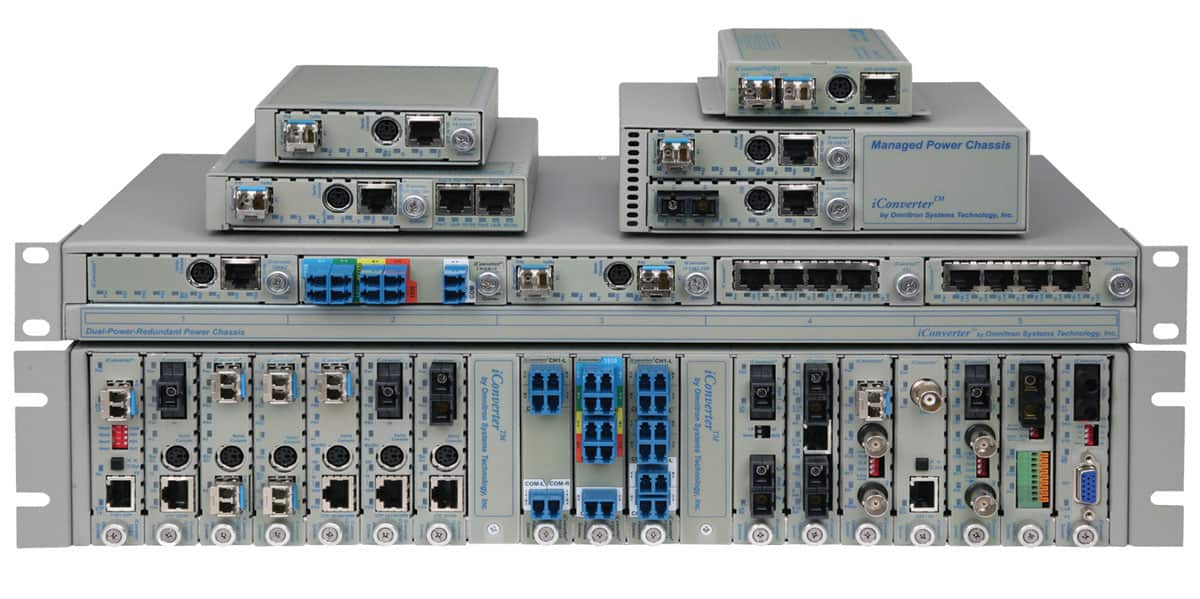 iConverter switch modules can be used as standalone modules,
or installed in a 19-Module chassis or a rack mount shelf
Ethernet Switch Configurations with Compact Chassis
iConverter Ethernet switch modules, managed media converters and compact chassis combine to create configurations that provide multi-port Ethernet connectivity to end users and subscribers. By installing intelligent media converters with integrated management, these devices function as managed switches and support advanced features such as VLAN, Quality of Service prioritization (QoS), bandwidth control and port access control. The example below illustrates a 2-Module chassis and modules with data backplanes that enables sharing of Ethernet data between two installed iConverter modules.