TDM Network Products
Omnitron TDM fiber media converters and multiplexers enable flexible T1, T3, and SONET fiber network connectivity and distance extension.
Learn more about Omnitron's TDM network products with these application examples:
iConverter® T1 Multiplexers
iConverter T1 Multiplexers transport up to sixteen independent T1/E1 circuits and Ethernet from copper links over fiber. Designed for mobile backhaul and T1/E1 demarcation extension, iConverter T1/E1 multiplexers are available in modular or fixed chassis configurations with 4, 8, 12 or 16 T1/E1 RJ-48 ports.
Transport up to 16 T1/E1 circuits over a fiber link, CWDM channel, or Carrier Ethernet EVC
10/100/1000 Ethernet multiplexed with T1/E1 circuits
Supports 1000BASE-X fixed fiber ports or Small Form Pluggable (SFP) transceivers
SNMP management via NetOutlook® provides real-time port and module status information, configuration and trap notification
Commercial (0 to 50º C) and wide (-40 to 60º C) operating temperature ranges

T1 and T3 Media Converters
T1 and T3 Media Converters provide fiber distance extension between service provider demarcation point and networking equipment. T1 and T3 media converters operate in pairs, providing distance extension over fiber.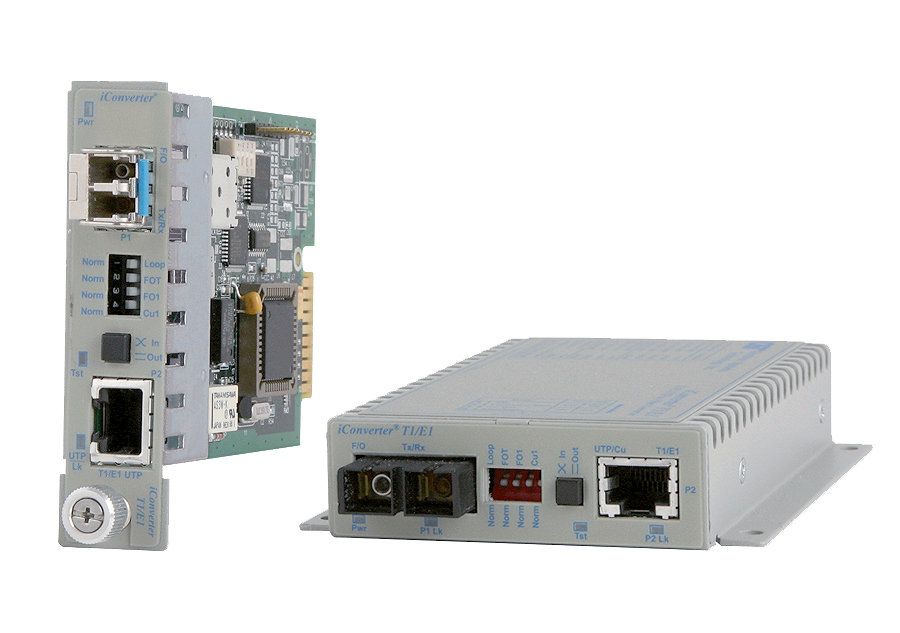 T1/E1 and T3/E3/DS3 copper-to-fiber media converters
Managed and unmanaged models
Commercial (0 to 50°C) and wide (-40 to 60°C) temperature ranges
Lifetime Warranty
Free 24/7 Technical Support
SONET Fiber Converters and Transponders
SONET Fiber-to-Fiber Media Converters and Transponders provide reliable and cost-effective SONET OC-3 (STM-1), OC-12 (STM-4), OC-48 (STM-16) and OC-192 (STM-64) fiber network distance extension. All Omnitron Systems SONET/SDH/ATM media converters are backed with a lifetime warranty and free 24/7 technical support.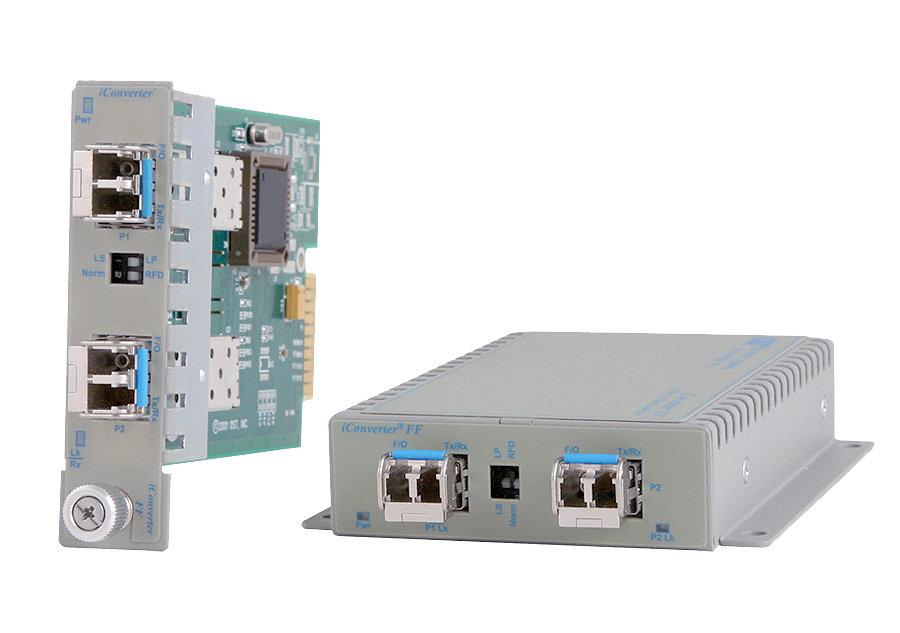 Supports a variety of ATM, SONET and SDH network protocols
Commercial (0 to 50°C), wide (-40 to 60°C), and industrial (-40° to 75°C ) temperature ranges
Lifetime Warranty
Free 24/7 Technical Support
Block
Resource Center
Blogs, Videos, Data Sheets, User Manuals, Visio Stencils, Product Catalog, Free BICSI CECs
Free Network Design
Schedule a session to review your network design with an Omnitron product specialist