Connectivity Solutions for Education Networks
Education network decision makers have relied on Omnitron for connectivity solutions for over 30 years.
Omnitron's Media Converters and Fiber Switches are commonly used to connect district buildings, schools and classrooms, and our PoE media converters, Switches and Extenders enable the easy installation of WiFi access points, Security Cameras and other PoE powered devices.
Utilizing Omnitron's iConverter and OmniConverter product families, School network managers have the tools they need to keep students safe and connected.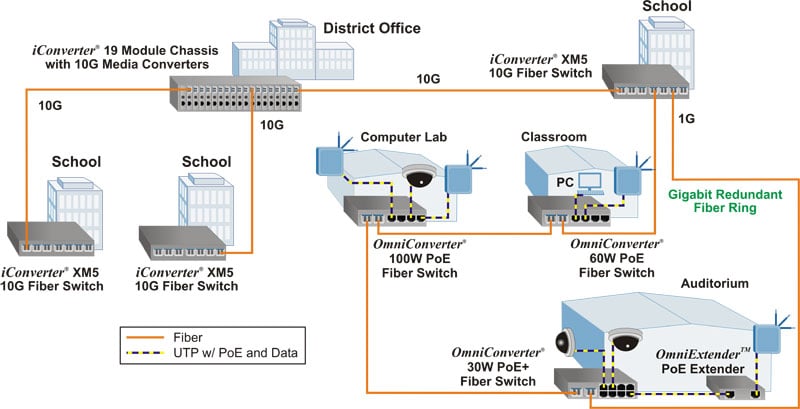 In the application above, 10G Ethernet fiber links are distributed from a central office to individual campuses with a chassis if iConverter XG 10Gig media converters.
The data is received at each School with an iConverter XM5 10G fiber switch. The XM5 then distributes 1G fiber links to various campus buildings, or can be used to originate a protected fiber ring that runs between multiple buildings.
Each building within the School is connected with an OmniConverter PoE Switch, which provides PoE connectivity to network devices such as WiFi Access Points, Security Cameras, PCs and workstations, Emergency Alert Systems, and many other PoE powered devices. The type of OmniConverter switch at each location is chosen based on the wattage requirements of the connected devices, and the number of fiber and PoE ports needed.
The OmniConverter PoE Switch at the Auditorium is also powering an OmniExtender PoE Extender to provide additional distance extension with UTP to a WiFi Access Point located at the far end of the building.
IP-Less Management for Enhanced Network Security
The combination of iConverter NMM2 Network Management Module and GX/TM2 and 10/100M2 media converters with integrated management improves network security by providing IP-less management of the network. This configuration isolates one IP address at the network core that can manage up to 18 remote IP-less standalone GX/TM2 or 10/100M2 converters at the network edge.

IP-less management provides the Network Administrator two important benefits. First, it allows management of a large number of individual media converters and chassis through one IP address, and second, it provides an added level of security for the management channel that is not affected by end-user actions or traffic on the system. The IP address is isolated to a physically secure management station at the network core, and does not exist on the fiber link or on the media converters at the network edge. Secure IP-less management reduces the risk of unauthorized access to the IP address, and prevents malicious attacks on the network.
Management Capabilities
iConverter GX/TM2 and 10/100M2 media converters feature integrated SNMPv1, SNMPv2c, SNMPv3 and IP-less 802.3ah management that supports a variety of advanced network management capabilities.
802.3ah Link OAM for early fault detection and performance monitoring
VLAN with 802.1ad Q-in-Q for segmenting network data
Quality of Service for prioritizing Voice/Data/Video traffic
Bandwidth control (rate limiting) with 64Kb increments
Port MIB statistics and optical performance statistics
Port Access Control that enables remote disabling of port access for enhanced security
Configurable Link Fault Propagation modes for advanced fault detection and isolation
Product Listings
Featured Media Converters, Switches and Multiplexers
Block
Resource Center
Blogs, Videos, Data Sheets, User Manuals, Visio Stencils, Product Catalog, Free BICSI CECs
Free Network Design
Schedule a session to review your network design with an Omnitron product specialist