Omnitron's Media converters are commonly used to connect Municipal buildings, and our PoE media converters, Switches and Extenders enable the easy installation of WiFi access points, Security Cameras and other PoE powered IoT devices.
Applications for Omnitron's connectivity products include:
Security Surveillance
WiFi
Parking
Smart Street Lighting
Emergency Services
Traffic Management
Emergency Alert Systems
Air Pollution
Waste Management
Hospitals
Education
Libraries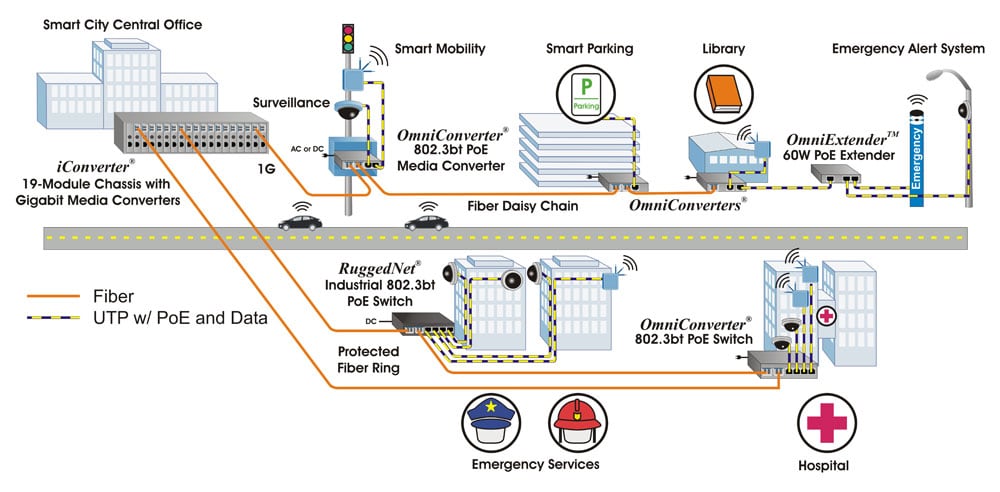 In the Smart City application above, fiber is being distributed from a Smart City Central Office with a chassis of iConverter copper to fiber media converters to various locations within the City network.
On the top of the street, the fiber is daisy chained from one location to the next with OmniConverter PoE Media Converters, and both data and power is being provided to PoE powered devices such as Surveillance cameras, Smart Mobility and WiFi access points, and Smart Parking systems. Outside the Library, an OmniExtender PoE Extender is used to connect Emergency Alert Systems that are located just outside the 100 meter distance limit of copper cabling.
On the bottom of the street, a Hospital and Emergency Services are connected to the city network with a protected fiber ring. The RuggedNet Industrial 802.3bt PoE Switch can be mounted outdoors in a compact enclosure or cabinet, and can withstand harsh temperatures from -40 to 75°C, while providing up to 100W of PoE power to PTZ cameras and power-hungry WiFi access points. The OmniConverter 802.3bt PoE switch at the Hospital can be powered by AC and also provide 802.3bt PoE connectivity to multiple devices. Both the RuggedNet and OmniConverter managed PoE switches support IEC 62439-2 Media Redundancy Protocol (MRP) and IEEE 802.1w Rapid Spanning Tree Protocol (RSTP), which allows Smart City network manager to run protected fiber rings to minimize potential downtime.
Product Listings
Featured Media Converters, Switches and Multiplexers
Block
Resource Center
Blogs, Videos, Data Sheets, User Manuals, Visio Stencils, Product Catalog, Free BICSI CECs
Free Network Design
Schedule a session to review your network design with an Omnitron product specialist