iConverter® Multi-Service Platform
The modular iConverter Multi-Service Platform of media converter, transponder and multiplexer modules can be combined in a variety of chassis configurations to provide a managed, flexible and scalable architecture for today's evolving fiber networks. Network managers can leverage investments in existing infrastructure and deliver new services, protocols and data rates over fiber, and multiplex different services over a CWDM common fiber link
Deployed worldwide in service provider, enterprise, government and utility networks
Modular architecture of high-density chassis, plug-in modules and standalone modules
Manageable via SNMPv1/v2c/v3, Telnet and secure IP-less management
Commercial (0 to 50ºC), Wide (-40 to 60ºC) and Extended (-40 to 75ºC) temperature ranges
Select modules support SFP, SFP+ and XFP pluggable transceivers
Features
Lifetime Warranty on most products
Free 24/7 Technical Support
Made in the USA
Temperature Hardened
SNMP v3 Management
Scalable Architecture
NEBS Level 3 certified
UL, CE and FCC compliant
MEF Carrier Ethernet 2.0 Compliant NIDs
ROHS and WEEE compliant
Technologies Supported
10, 100, 10/100 Ethernet
10/100/1000, Gigabit Ethernet
10 Gigabit Ethernet
PoE/PoE+, and High-Power PoE
10G OTN (G.709)
T1/E1, T3/DS3/E3
OC3, OC12, OC48, OC192
RS-232/422/485/530, X.21
Fibre Channel
Protocol Transparent
CWDM
Network Interface Devices (NIDs)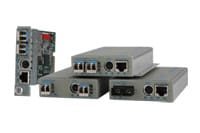 iConverter carrier-class Ethernet Network Interface Devices (NIDs) are Carrier Ethernet 2.0 certified compliant to provide intelligent demarcation for Carrier Ethernet services. iConverter NIDs provide demarcation for Ethernet services delivered across one or more operator networks, with state-of-the-art provisioning, performance monitoring, protection and fault detection capabilities.
Learn more about iConverter Network Interface Devices
Media Converters and Transponders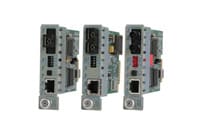 iConverter media converters provide seamless integration of copper and fiber and different fiber types. iConverter media converter modules support a wide variety of protocols, data rates and media types to create a reliable and cost-effective network. iConverter media converters support pluggable transceivers for flexible connectivity solutions for standard and CWDM wavelengths.
Learn more about iConverter Copper-to-Fiber Media Converters
Learn more about iConverter Fiber-to-Fiber Media Converters
CWDM Multiplexers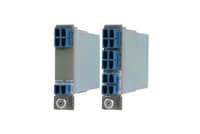 iConverter CWDM Multiplexers/Demultiplexers and Add/Drop Multiplexers increase the bandwidth capacity of existing single-fiber or dual fiber infrastructure by multiplexing up to sixteen independent wavelengths over a fiber optic connection. The modular iConverter CWDM MUX products utilize a small and scalable plug-in form factor and can be installed in any iConverter chassis, achieving some of the highest port densities in the industry.
Learn more about iConverter CWDM Multiplexers
T1/E1 Multiplexers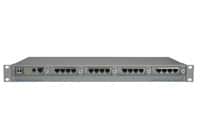 iConverter T1/E1 MUX products multiplex up to sixteen independent T1/E1 circuits and Ethernet from copper links onto a fiber link, CWDM wavelength or Ethernet Virtual Connection (EVC). Designed for mobile backhaul, and T1 demarcation extension up to 120km, iConverter T1/E1 multiplexers are available in modular or fixed chassis configurations with 4, 8, 12 or 16 T1/E1 ports.
Learn more about iConverter T1/E1 Multiplexers
Switch Modules and More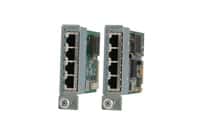 The iConverter Multi-Service Platform also features four-port switch modules, redundant-link Ethernet media converters, and UTP to coax media converters. iConverter 10/100 and 10/100/1000 switch modules are managed four-port Ethernet switches that can be installed in a variety of chassis configurations with backplane connectivity to other iConverter modules.
Learn more about other iConverter Copper Switch Modules
Management System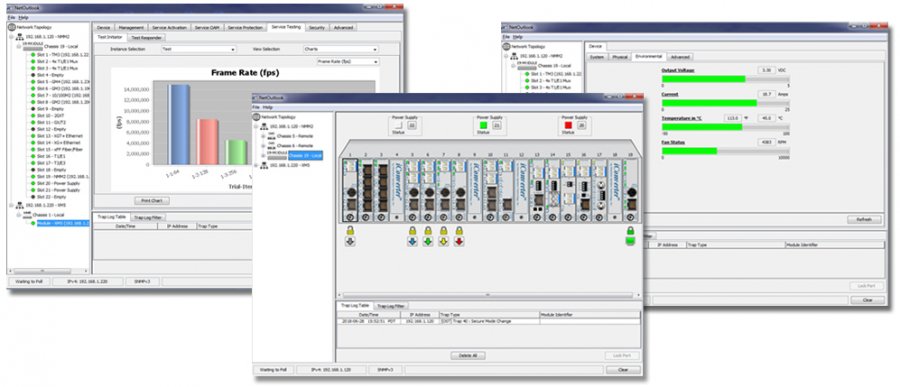 The iConverter management system provides the ability to remotely monitor network performance, configure hardware parameters and perform fault detection. The iConverter Multi-Service Platform and network interface devices can be managed with NetOutlook® SNMP Network Management Software.
Learn more about NetOutlook and the iConverter Management System
iConverter Chassis Options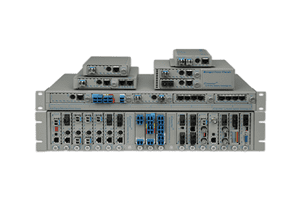 Chassis options include high-density, rack-mount chassis for central office and network core deployments, and a variety of compact chassis for edge deployments. They feature redundant power supplies and data.
Learn more about iConverter Chassis
Block
Resource Center
Blogs, Videos, Data Sheets, User Manuals, Visio Stencils, Product Catalog, Free BICSI CECs
Free Network Design
Schedule a session to review your network design with an Omnitron product specialist