iConverter HybridNID® with Virtual NID Functions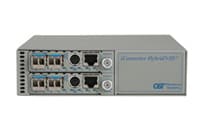 The iConverter HybridNID is a Network Interface Device that enables the delivery of Carrier Ethernet 2.0 E-Access services across multiple-operator networks, and provides independent SLA verification when two Service Providers are delivering one Ethernet service. With the iConverter HybridNID installed at the customer premises, both a Service Provider and Access Provider (Wholesale Operator) can provision, manage and monitor the Ethernet service.
The HybridNID supports the features and functionality of a conventional NID and is Carrier Ethernet 2.0 certified to provide wholesale E-Access service demarcation. The HybridNID also complies with IEEE 802.1ag Connectivity Fault Management and ITU-T Y.1731 Performance Monitoring. These end-to-end Service OAM standards enable the efficient detection and rapid isolation of potential service problems, enabling SLA assurance while reducing Operational costs (OPEX).
Conventional NIDs are a challenge when Service Providers deliver services outside of their network (off-net), and must partner with Wholesale Operators to provide Ethernet business services or mobile backhaul.
Omnitron's iConverter HybridNID provides a single platform that delivers the Ethernet service via one User Network Interface and enables both the Service Provider and the Wholesale Operator to manage and monitor the Ethernet service.
Generate Value Added Revenue from Wholesale Services
Provide E-Access wholesale Ethernet services with end-to-end SLA assurance
Offer the HybridNID with VNID (Virtual NID) functionality and provide secure access to management, provisioning and performance monitoring
Hardware Cost Savings
No need for multiple devices at the customer premises
Single platform for inventory and sparing
Operational Savings
Easy to install and turn-up service
Deploy NID functionality uniformly
Time to Market
Zero-touch provisioning enables turn-up of services in days instead of weeks
System Reliability
Single device is more reliable than multiple devices
Compact platform is easier to maintain and troubleshoot