Overview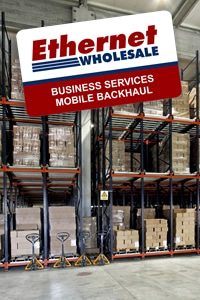 Carrier Ethernet has truly become the global service. Delivering services across multiple regions and operators and interconnecting to out-of-franchise Enterprise customer locations and cell towers is a business necessity that requires wholesale arrangements between service providers.
A Heavy Reading five-year market forecast projects wholesale Ethernet revenues to grow by over 30% a year, and concludes that "Wholesale Ethernet is finally emerging as a major, thriving U.S. market." This market growth is driven by demand for business services and mobile backhaul that connect customers regionally, nationally and globally across multiple operator networks.
The Wholesale Interconnect Challenge
The challenge with wholesale services is the complex and time-consuming process of interconnecting the wide variety of Carrier Ethernet services. Aligning the different SLAs and the Class of Service (CoS) between Service Providers at the Ethernet Network to Network Interconnect (ENNI) can take weeks and even months of negotiation to create a single end-to-end service.
Carrier Ethernet 2.0 has addressed this challenge with the MEF 33 E-Access standard that simplifies the wholesale service interconnection.E-Access has simplified wholesale Ethernet to be as easy as deploying T1 services by reducing deployment costs and shortening time to revenue. E-Access provides several benefits to retail and wholesale service providers. Wholesale Ethernet access providers can generate revenue selling existing network footprint as Carrier Ethernet wholesale E-Access service. Retail Ethernet service providers can reduce the time and cost associated with reaching remote end-user locations, and minimize the number of custom interconnect agreements with Access Providers.
The Off-Net Demarcation Challenge
Intelligent Ethernet demarcation is required for traffic management, performance monitoring and fault management. The challenge is how to deploy and maintain Network Interface Devices out-of-franchise where the Service Provider has no facilities to install and maintain the out-of-franchise NID.
Providing demarcation for wholesale Ethernet services has resulted in multiple NIDs at the off-net demarcation point. The retail Service Provider needs to deploy a NID for the end-to-end customer SLA, and the Access Provider needs to deploy a NID for the wholesale service SLA. Two NIDs, and sometimes three or four NIDs, are deployed at the remote customer premises. This multi-NID scenario creates several challenges: there are now more points of failure on the service, multiple NIDs can increase delay, and which NID is actually providing the UNI?
The iConverter SFP-NID® solves this challenge by providing SLA assurance for the retail service provider in a compact SFP that can be installed in the wholesale access provider's NID. This enables the Service Provider to monitor end-to-end service and without having to deploy and power another standalone NID device at the out-of-franchise customer location.
Slide 1
iConverter tiered NIDs allow us to align features and costs with our different types of wholesale services.
Network Project Manager, Tier 1 Service Provider