Power over Ethernet (PoE, PoE+ and HPoE) technology enables powering of IP surveillance cameras through the transfer of DC electrical power along with data over standard Unshielded Twisted Pair (UTP) network cabling. PoE is typically deployed where access to AC power is inconvenient, expensive or infeasible to supply. PoE can power IP cameras located in ceilings, on rooftops, light poles, along fences, pipelines, transit routes and other out-of-the-way locations. The cost of bringing electrical power to each camera is eliminated by powering the equipment through the UTP cable.
A challenge with PoE is reaching cameras in remote locations outside the distance limitation of UTP cabling. Fiber optic cabling overcomes the distance and bandwidth limitations of UTP, and media converters are commonly used to integrate copper network equipment and fiber. OmniConverter PoE media converters are a reliable and cost-effective solution to extend network distances via fiber to remote cameras.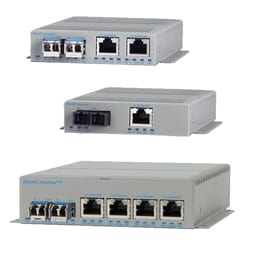 OmniConverter PSE Media Converters
Power over Ethernet injector/source
PoE, PoE+ or HPoE (60W)
Supports 10/100 and 10/100/1000 Ethernet
Supports fixed-fiber port or SFP transceivers
Available with one or two Fiber Ports
Available with up to four PoE RJ-45 ports
Available in AC or DC models
OmniConverter PoE media converters provide a flexible and cost-effective solution to power PoE-driven IP cameras, and overcome the distance limitations of copper UTP network cabling. They combine the benefits of PoE and fiber in a compact and reliable device that supports PoE+ for the higher power requirements of today's sophisticated security and surveillance cameras.
How OmniConverter PoE Media Converters Work
An OmniConverter PoE media converter converts fiber to copper, and functions as PoE Power Sourcing Equipment (PSE) to send DC power to the Powered Device (PD) over the UTP cabling. On the left side of the following illustration, an Ethernet switch with RJ-45 ports resides in a server room or security office. The UTP cabling is converted to fiber using a standard media converter. Network switches with fiber ports can also be used.
The fiber is run a long distance to an OmniConverter PoE media converter located near a convenient AC or DC power source, where it converts the fiber back to UTP cabling. The PoE media converter also injects PoE (DC power) over the UTP cable. At the other end of the UTP cable is an IP surveillance camera, located up to 100 meters away from the PoE media converter.
Extend Point-to-Point Fiber to PoE Cameras
OmniConverter PoE media converters with one fiber port are deployed in a point-to-point, network star topology. In this application example, PoE, PoE+, and HPoE (60W) IP surveillance cameras are deployed throughout a large facility. iConverter, miConverter or FlexPoint media converters are installed in a high-density rack-mount chassis to provide reliable and cost-effective fiber distribution from existing copper network equipment.
Fiber cables run to OmniConverter media converters, which are located near convenient AC or DC power sources. The OmniConverter media converters provides Power over Ethernet (PoE, PoE+ or HPoE) over UTP cables to up to four IP cameras at each location.
Daisy-Chain and Redundant Fiber to PoE Cameras
OmniConverter PoE media converters with two fiber ports can be deployed in daisy-chain configurations with fiber links running hop-to-hop along border fences, pipelines, highways or rail lines.

OmniConverter media converters with two fiber ports can also be deployed with redundant fiber links for mission-critical applications that require failover protection. The OmniConverter media converter is powered by a UPS for battery back-up power. Even if a fiber link is cut and power is shut off, the camera will continue to send image data over the failover fiber link.