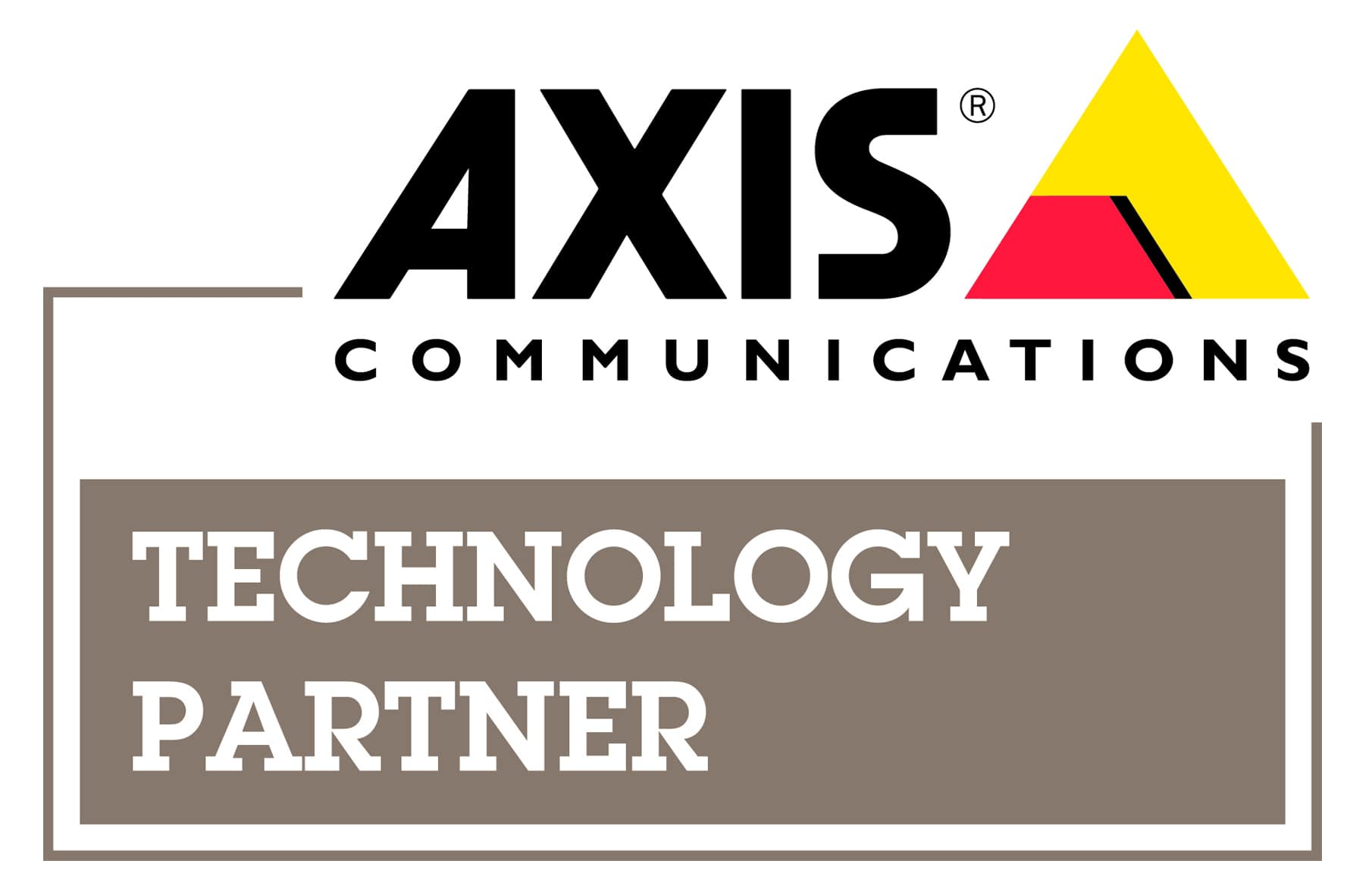 Omnitron Systems is an approved Technology Partner with Axis Communications. OmniConverter™ PoE media converters are field-tested and fully interoperable with Axis network cameras. OmniConverter PoE media converters enable distance extension with fiber cabling to Axis network cameras installed in locations beyond the 100 meter distance limitation of copper network cabling, and provide PoE, PoE+ and HPoE (60W) power. Omnitron Systems is the only company that provides High Power PoE 60W media converters in this small form factor.
As a Technology Partner, Omnitron Systems provides integrators and security network operators solutions that enable flexible indoor (0 to +50 ºC) and outdoor (-40 to +60ºC) network camera deployments, and simplify installations by integrating media conversion and PoE power sourcing into a single device.
Solutions Guide : Deploying Omnitron PoE Media Converters with Axis Network Cameras (PDF)
Axis Partnership Certificate (PDF)
OmniConverterTM PoE Injector Media Converters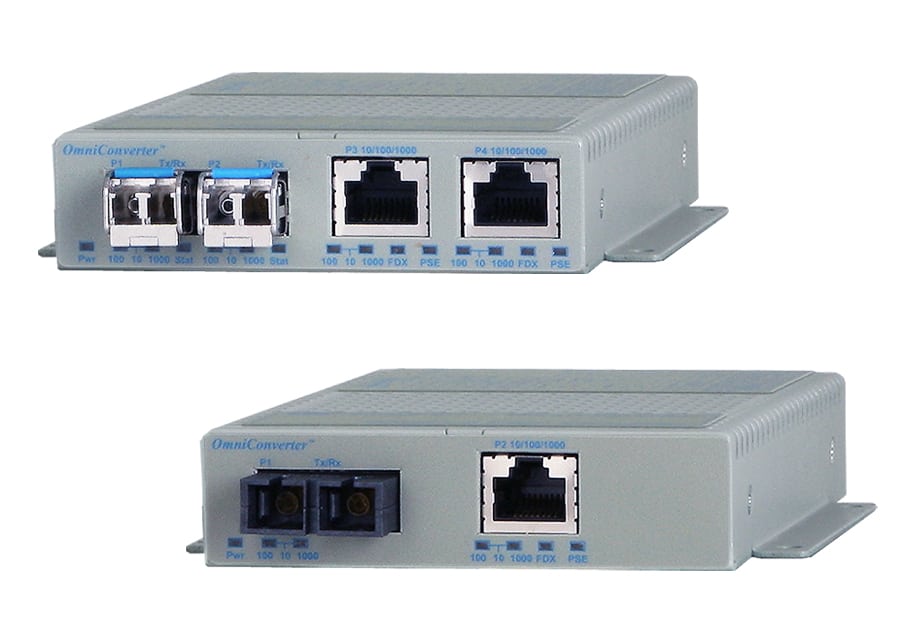 OmniConverter PoE media converters enable distance extension over fiber optic cabling to PoE Powered Axis Network Cameras. OmniConverter PoE converters are multi-port media converters that are available with one or two RJ-45 ports, and one or two fiber ports.
Power over Ethernet injector/source
Models support PoE, PoE+ and 60W PoE
Supports 10/100 and 10/100/1000 Ethernet
Multiple port configurations available
Supports fixed-fiber connectors or SFP transceivers
Temperature hardened to -40º to 75ºC
Available in AC or DC models

OmniConverter Product Overview
Download the OmniConverter Product Overview (PDF)
How to Use OmniConverter PoE Injector Media Converters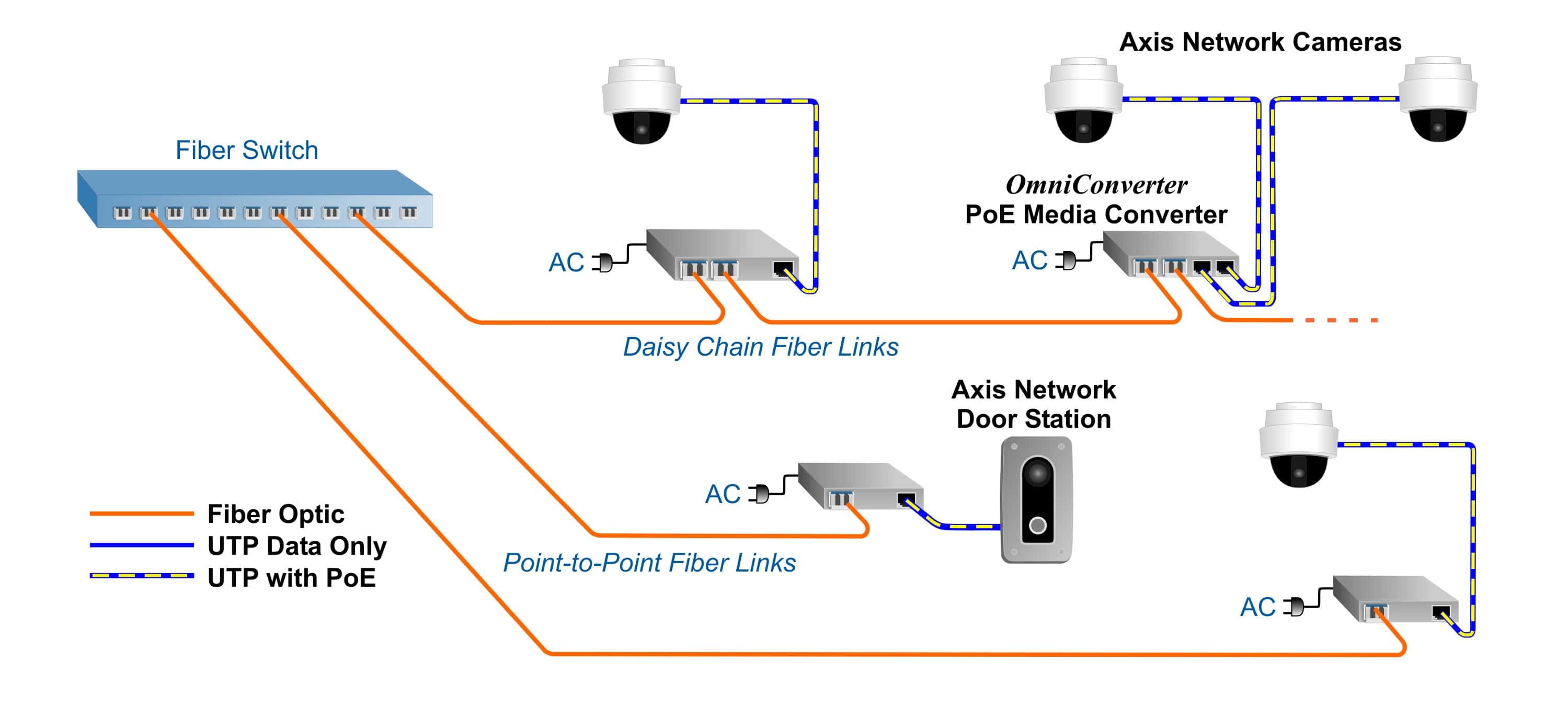 In this application example, a fiber switch is used to distribute multiple fiber runs from a network core, security office or data closet. A copper switch and a chassis of copper-to-fiber media converters can also be used to distribute the fiber runs. Each fiber is terminated by an OmniConverter PoE media converter located near a convenient AC or DC power source. The OmniConverter functions as both a media converter and PoE Power Sourcing Equipment. It converts the fiber to copper, and it injects PoE power (DC power) over the UTP cable. Axis PoE powered network cameras are connected at the other end of the UTP cables, and can be installed up to 100m away from the OmniConverter media converters. OmniConverter media converters support one fiber port for point-to-point topologies, or two fiber ports for daisy chains or redundant fiber links.
More Information on OmniConverter Media Converters
Download Resources:
Solutions Guide: Deploying Omnitron PoE Media Converters with Axis Network Cameras (PDF)
OmniConverter Product Overview (PDF)
Application Examples
How PoE media converters overcome UTP cabling distance challenges
How OmniConverter Port Configurations Enable a Variety of Deployment Architectures