G.8031 and G.8032 Ethernet Protection Switching
Fiber rings provide resiliency to protect network services, but Spanning Tree for Ethernet rings does not provide fast failover when a link in the ring fails. A protection mechanism is needed to provide the 50ms failover similar to legacy SONET/SDH rings, and support protection of multiple Ethernet Virtual Connections (EVCs).
iConverter® Carrier Ethernet 2.0 Certified NIDs support G.8032 Ethernet Ring Protection Switching (ERPS) for resilient rings with sub-50ms failover. Other protection features include G.8031 Ethernet Linear Protection Switching (ELPS) for redundant fiber access links, port failover protection and link modes.
Features
Benefits
G.8032 Ethernet Ring Protection Switching

Deterministic performance and protection for SLA service guarantees and mission-critical applications
Improves customer satisfaction with guaranteed up time
Saves the cost of SLA penalties for service availability, excessive outage time and outage recurrences

Support for Multi-Ring Protection (5-Port GM4) and Sub-Rings
Provides service protection for complex hub and multi-ring architecture
Support for an unlimited number of nodes on the ring
Enables service providers to build scalable Layer 2 networks
Multiple ERPS instances passing a customer's grouped VLAN data on the protection link
Enables service providers to efficiently manage the bandwidth via Load Balancing
Fast CCMs (802.1ag) Connectivity Check Messages
Provides failover protection in less than 50ms for mission-critical applications
Link Modes and Automatic Link Shut Off
Enables port-to-port and UNI-to-UNI failure propagation that informs the subscriber that there is network problem with the customer facing link at the remote UNI
G.8031 ELPS and G.8032 ERPS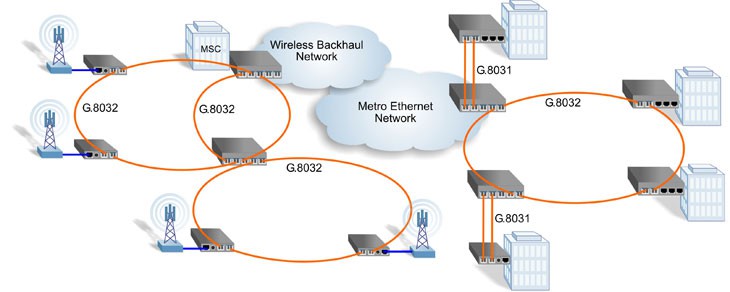 iConverter GM4 NIDs support G.8031 ELPS and G.8032 ERPS for mobile backhaul and mission-critical business services with fast Connectivity Check Messages (CCM) at 3.3msec rate for sub-50msec protection switching. Support for G.8032 includes multi-ring protection and sub-ring support with 5-Port GM4.
How G.8032 Works
This topology shows three nodes on mobile backhaul fiber ring. The GM4 NID at the Mobile Switching Center (MSC) is the Ring Protection Link (RPL) owner, and the GM4 NID at the cell tower on the other end of Ring Protection Link is the RPL neighbor.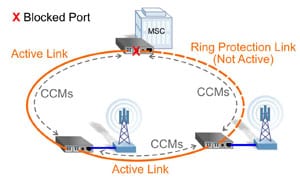 The ring is in the Idle or Normal state, and backhaul data is passing on the active links to the two cell towers. The port on the RPL Owner NID facing the Ring Protection Link is blocked to prevent loop formation.
Each link is being monitored by its two adjacent nodes using 802.1ag Connectivity Check Messages (CCM) that are sent from the NID at each node. Note that backhaul data is not passed on the RPL, but OAM and management data is carried on the RPL.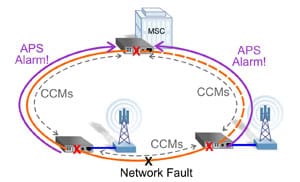 A network fault occurs on an active link. The fault is detected by the NIDs adjacent to the failure with a loss of three consecutive CCMs. The NIDs adjacent to the failure block the failed link and send Automatic Protection Switch (APS) alarms to the RPL Owner NID.
The APS alarm triggers the RPL owner to unblock the RPL link and all NIDs perform Filtering Database Flush (FDB) of MAC addresses. The RPL is now active and the ring is in a protection state.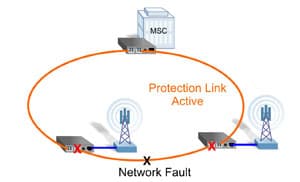 When the network fault is resolved, the NIDs can be configured to automatically revert to the normal state, or the link can be restored manually.