10G DWDM Data Center Interconnect
Data centers are often connected with remote sites over a DWDM optical transport fiber rings. The challenge is that fiber switches deployed in data centers that are connected to the ring may not support DWDM or high-power DWDM transceivers. iConverter transponders can be used to economically convert 10G to DWDM channels to be multiplexed over a fiber ring.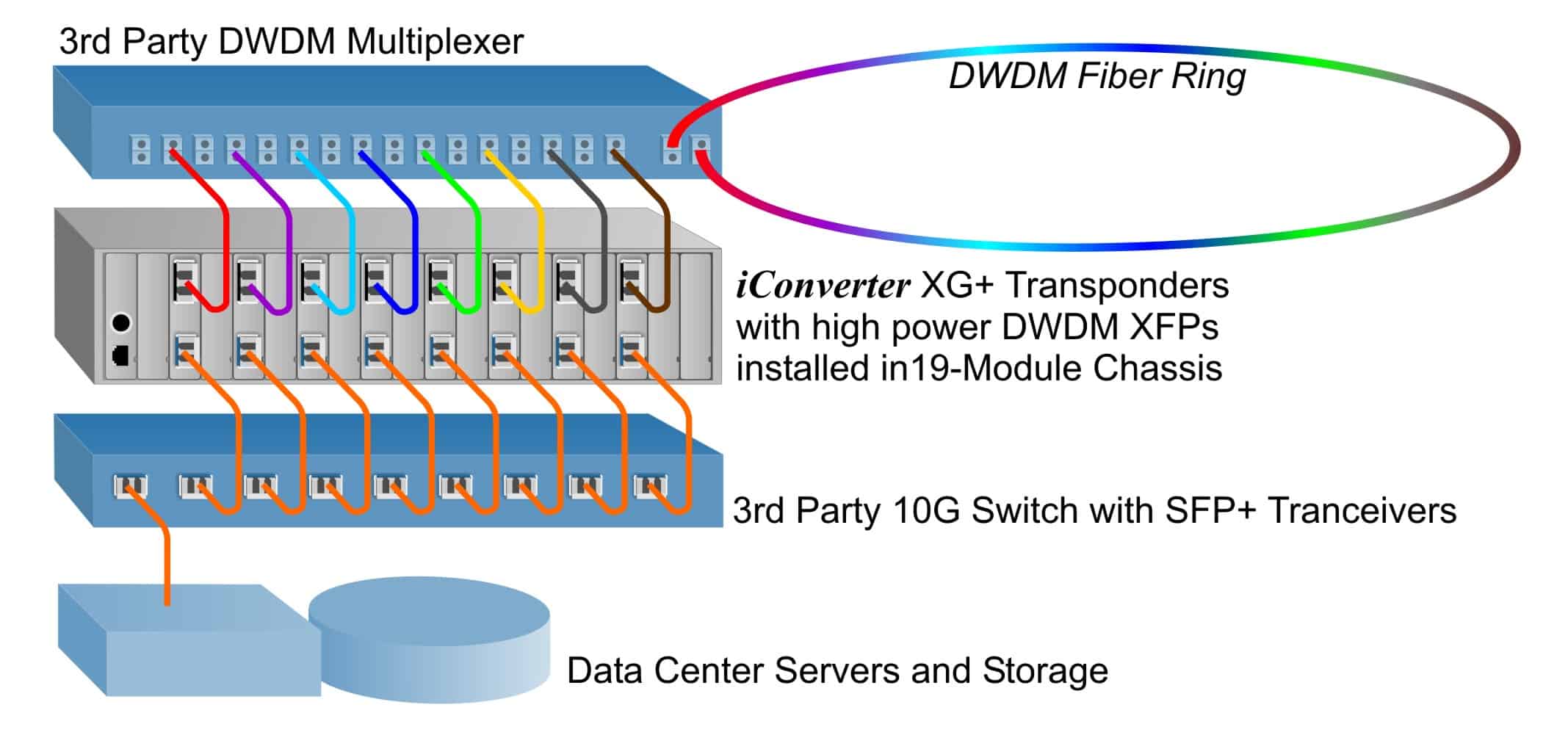 In this application, iConverter XG+ Transponders are installed in a iConverter 19-Module Chassis. The XG+ transponders provide DWDM wavelength conversion from the standard wavelength (850, 1310, 1550nm) SFP+ transceivers installed in the third-party 10G fiber switch.
If the DWDM Multiplexer is an active MUX, iConverter XG+ Transponders provide wavelength conversion at a lower cost than installing proprietary DWDM transceivers in the 10G fiber switch.
If the DWDM Multiplexer is a passive MUX, iConverter XG+ Transponders and chassis provide the necessary power and cooling for high power (Power level 3 and 4) transceivers that provide advanced Forward Error Correction (FEC) to insure error free transmission over long distances.
iConverter XG+ Transponders also support tunable XFPs with the iConverter management system. Tunable XFP transceivers are configurable to support a specific channel in a DWDM optical network. Tunable XFPs allow network operators to remotely change wavelengths (channel paths) when they need to redistribute bandwidth, or reconfigure/upgrade traffic patterns and services.
By deploying iConverter XG+ Transponders, the data center operator is able to economically deploy a long-haul DWDM optical transport ring, and preserve the investment in the 10G SFP+ fiber switch.