In this application example, Gigabit media converters are deployed in a star topology network with mulitple fiber links distributed from a central location. Omnitron Ethernet media converters provide copper-to-fiber conversion for data rates of 10 Mbps up to 1 Gigabit.
At Building A, a FlexPoint 14-Module Chassis with FlexPoint GX/T media converters is used to convert the RJ-45 ports from the copper switch to fiber links that run to different locations throughout the campus.
At Building B, the fiber is connected direclty to an Ethernet switch with a Gigabit fiber port.
At Buildings C and D, FlexPoint GX/T media converters provide copper-to-fiber connectivity to department switches, and bridging between the Gigabit fiber and the 10/100 switches.
miConverter GX/T media converters and the miConverter 18-Module Chassis can also be used in this unmanaged application.
Note that the media converters provide transparent network connectivity, so the switches in the network can be managed via SNMP management software.
iConverter managed copper-to-fiber media converters and Network Interface Devices can be deployed for managed fiber infrastructure with remote configuration, performance monitoring and fault notification.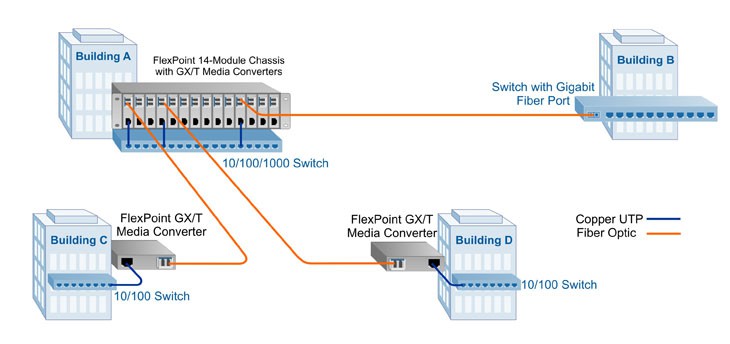 Learn more about Omnitron Ethernet media converters:
FlexPoint Copper-to-Fiber Media Converters
miConverter Copper-to-Fiber Media Converters
iConverter managed Copper-to-Fiber Media Converters and Network Interface Devices