Carrier Ethernet Service Demarcation
In this application diagram, a Service Provider is providing Carrier Ethernet 2.0 E-Line services to a corporate subscriber, and E-LAN services to a health care subscriber. The Service Provider deploys iConverter GM4 Network Interface Devices (NIDs) for demarcation of the business services, and to provide crucial traffic management and performance assurance functions throughout the life cycle of the Carrier Ethernet service.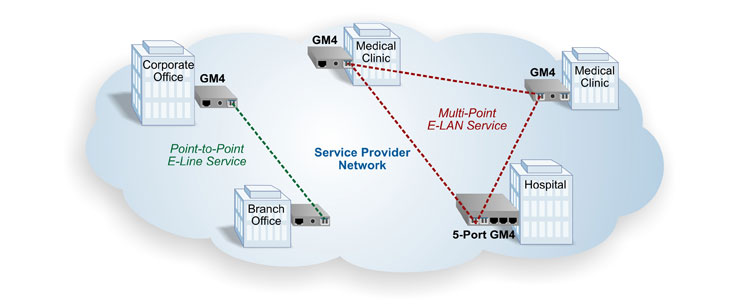 iConverter GM4 NIDs serve as the traffic manager for the subscriber traffic to be delivered across the Service Provider network. The advanced Traffic Management features enable the Service Provider to offer MEF-certified Carrier Ethernet 2.0 services with Multiple Classes of Service (Multi-CoS), granular rate-limiting, and 802.1ad Provider Bridge VLAN stacking (Q-in-Q) for service multiplexing. GM4 NIDs filter the subscriber traffic, assign the traffic to different Classes of Services, enforce rate-limiting for each CoS, and forward the allowed traffic to the other subscriber locations. Support for per-flow service mapping, traffic policing and shaping transports nearly any type of subscriber traffic as an EVC or CoS flow.
In a multipoint E-LAN service, the NID also manages traffic delivered to each customer location, monitoring and enforcing the total delivered utilization rate (for billing purposes).
Service activation and testing tools include Zero-Touch Provisioning for telecom networks and DEMARC Auto Configuration (DAC) for Cable MSO DPoE networks. Built-in Y.1564 and 2544 test heads allow the NIDs to perform tests with synthetic subscriber traffic, and eliminates the need for service personnel and test equipment at the customer premises. Service testing ensures proper service provisioning, validates the Service Level Agreement (SLA) parameters, and helps troubleshoot any service issues. These features shorten time to market and reduce operating costs by simplifying service provisioning and testing.
During operation, the GM4 NIDs regularly communicate with each other, ensuring the service paths between the subscriber locations are uninterrupted. Advanced fault management features include support for IEEE 802.1ag Connectivity Fault Management (CFM) for proactive fault monitoring and isolation, and G.8032 Ethernet Ring Protection Switching (ERPS) for resilient rings with sub-50ms failover.
iConverter GM4 NIDs provide comprehensive support of the ITU-T Y.1731 Performance Monitoring standard, ensuring the delay, delay variation, loss and availability of the service are meeting the SLA. Support for third-party SLA Portals enable customers access to performance monitoring metrics through the Service Provider's existing OSS/BSS.
The Service Provider also deploys Omnitron's Element Management System, NetOutlook® EMS with FCAPS functionality to automate the entire Carrier Ethernet 2.0 service life cycle and simplify the management of the NIDs for business services and mobile backhaul deployments.