Arena Wi-Fi Offloading
In this application example, Wi-Fi is deployed in a sports arena for offloading 3G and 4G data, as well as to offer value added services to subscribers. Within a larger arena, thousands of people can be using smart phones and tablets to interact with social media, watch videos and surf the internet.
Dozens of Wireless Access Points are required for larger arenas, and the distance from the service provider point of presence, head end or data closet exceeds the distance limitations of copper cable. Fiber is required to provide connectivity to the Wireless Access Points, which typically do not have fiber ports, and can require Power over Ethernet (PoE).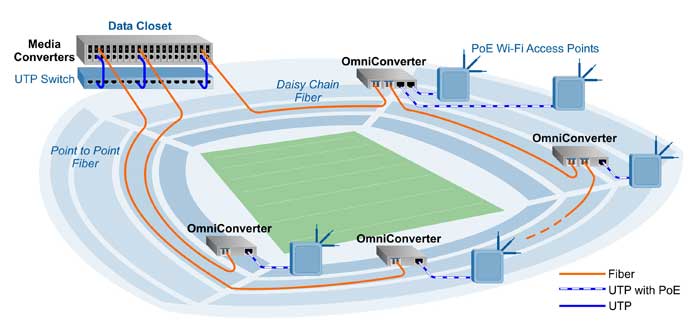 In the data closet, the Mobile Network Operator hands off services to a copper switch. Fiber is distributed from the copper switch using media converters. iConverter, miConverter or FlexPoint media converters can be installed in high-density rack-mount chassis to provide reliable and cost-effective fiber distribution from existing copper network equipment.
Running clockwise from the data closet, a fiber link begins a daisy-chain around the arena to preserve fiber runs. OmniConverter PoE injector media converters with dual fiber ports are deployed along the daisy chain. The PoE media converters are installed near AC or DC power sources, where they convert the fiber to copper and inject PoE or PoE+ over the UTP cables that are connected to Wireless Access Points installed up to 100 meters from the converters. Each OmniConverter can power one or two Wireless Access Points. The daisy-chain can continue around the facility, and can also be deployed as a resilient ring (if the switch in the data closet has fiber ports, and supports spanning tree). OmniConverter Media Converters support multiple-port configurations for a variety of flexible network architecture options.
Running counter clockwise from the data closet, two point-to-point fiber links run to OmniConverter PoE media converters. Each PoE media converter has one fiber port that terminates the fiber run, and one RJ-45 port that provides data and PoE power to a Wireless Access Point.
OmniConverter media converters are temperature hardened and can be installed in NEMA enclosures for all-weather outdoor deployments.
OmniConverter PoE Media Converters provide a reliable and cost effective method to provide fiber connectivity and PoE/PoE+ power to Wireless Access Points distributed throughout arenas and amphitheaters.