Types of Media Converters
There are a wide variety of copper-to-fiber and fiber-to-fiber media converters available that support different network protocols, data rates, cabling and connector types.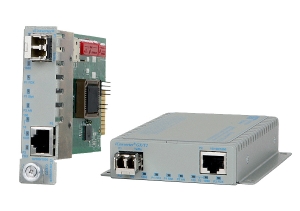 Copper-to-Fiber Media Converters
Supporting the IEEE 802.3 standard, Ethernet copper-to-fiber media converters provide connectivity for Ethernet, Fast Ethernet, Gigabit and 10 Gigabit Ethernet devices. Some converters support 10/100 or 10/100/1000 rate switching, enabling the integration of equipment of different data rates and interface types into one seamless network.
Fiber to Fiber Media Converters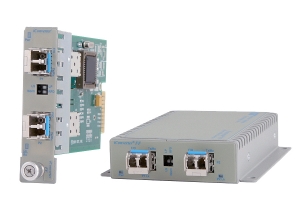 Fiber-to-fiber media converters provide connectivity between multimode and single-mode fiber, and between dual fiber and single-fiber. In addition, fiber-to-fiber media converters support conversion from one wavelength to another, including standard wavelengths (1310, 1550) and CWDM wavelengths. Fiber-to-fiber media converters are typically protocol independent and available for Ethernet, and TDM applications.
Media Converters Support a Variety of Network Protocols:
10, 100, Gigabit and 10G Ethernet
10G OTN
T1 / E1 and T3 / E3 / DS3>
SONET (OC-3, OC-12, OC-48 and OC-96)
Fibre Channel
Serial RS-232 / 422 / 530
Protocol Transparent, supporting data rates up to 11.32Gbps
Media Converter Support a Variety of Fiber Cable and Connector Types:
SFP, SFP+ and XFP Standard Wavelength Transceivers
SFP, SFP+ and XFP CWDM Transceivers
ST, SC, LC and MT-RJ Connectors
Single-mode and Multimode Fiber
Dual and Single Fiber
Media Converter Support a Variety of Copper Cable and Connector Types:
Copper RJ-45
BNC and Mini BNC
Coax
UTP Category 4, 5 and 6
Standalone and Chassis-Based Media Converters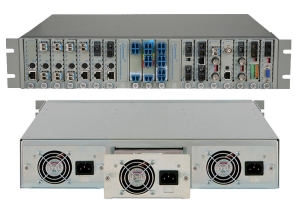 Media converters are available as compact standalone units that can be AC or DC powered. Standalone media converters are deployed to convert one copper connection to fiber in a point-to-point deployment.
Chassis-based media converters are plug-in modules that can be installed in a variety of chassis configurations. High-density, rack-mount chassis enable multiple fiber runs from copper switches in a star topology. Compact chassis provide a fiber uplink and multiple copper ports for network edge deployments. Chassis feature multiple power supplies for redundant power protection and data backplanes that provide connectivity between modules for flexible and scalable multi-port deployments.
Unmanaged and Managed Media Converters
An unmanaged media converter simply allows devices to communicate, and does not provide the same level of monitoring, fault detection and configuration as equivalent managed media converters. Connect the devices to the unmanaged media converter and they usually communicate automatically. Unmanaged media converters are simple to use and install. For most unmanaged converters, minimal configuration is required. Basic configuration of duplex modes, auto-negotiation, and crossover can be configured with DIP-switches. Unmanaged media converters provide networking features that can also be configured with DIP-switches such as remote fault indication, fault propagation, and loopback modes.
A managed media converter is typically more costly than an unmanaged media converter; however, a managed converter provides network monitoring, fault detection and remote configuration functionality not available with an unmanaged media converter. These management capabilities provide tangible benefits that reduce operating costs and improve network reliability.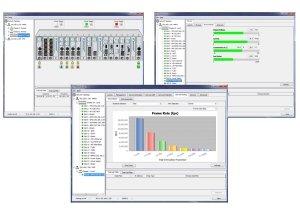 Remote configuration/provisioning reduces trips to edge equipment
Performance monitoring provides warnings on potential problems
Fault management proactively monitors for network problems and quickly isolates network faults
Intuitive software interface simplifies provisioning of complex networks and services
Managed media converters require additional hardware to enable SNMPv1, SNMPv2c and SNMPv3 management. This can be a management module
installed in the same chassis as managed media converters, or a media converter with integrated management capabilities.