How to Use Fiber-to-Fiber Media Converters
Fiber-to-fiber media converters provide connectivity between multimode (MM) and single-mode (SM) fiber, and between dual fiber and single-fiber. In addition, they support conversion from one wavelength to another. Fiber-to-fiber media converters are normally protocol independent and available for Ethernet and TDM applications.
Multimode to Single-mode Fiber Media Converter Application
Enterprise networks often require conversion from MM to SM fiber, which supports longer distances than MM fiber. Mode conversion is typically required when: 1) lower cost legacy equipment uses MM ports, and connectivity is required to SM equipment, 2) a building has MM equipment, while the connection to the service provider is SM, 3) MM equipment is in a campus building and SM fiber is used between buildings.
A fiber-to-fiber media converter can extend a MM network across SM fiber with distances up to 160km. In this application, two Gigabit Ethernet switches equipped with MM fiber ports are connected utilizing a pair of Gigabit fiber-to-fiber converters, which convert the MM fiber to SM and enable the long distance connection between the switches.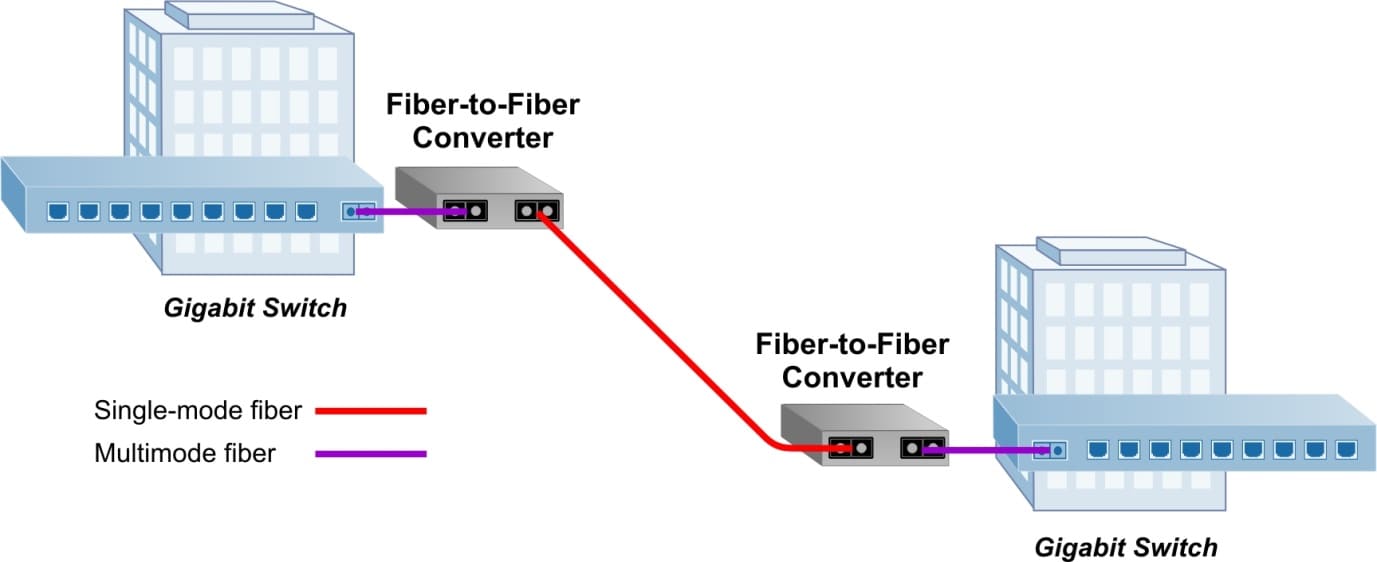 Dual Fiber to Single-Fiber Media Converter Conversion
Enterprise networks may also require conversion between dual and single-fiber, depending on the type of equipment and the fiber installed in the facility. Single-fiber is single-mode and operates with bi-directional wavelengths, often referred to as BIDI. Typically BIDI single-fiber uses 1310nm and 1550nm wavelengths over the same fiber strand in opposite directions. The development of bi-directional wavelengths over the same fiber strand was the precursor to Wavelength Division Multiplexing.
In this application, two dual fiber switches are connected via single-fiber. Since BIDI single-fiber uses two separate wavelengths over the same fiber strand, the transmit (Tx) at one end of the fiber link matches the receive (Rx) from the other end, and vice versa.