How to Use Copper-to-Fiber Media Converters
Copper-to-fiber media converters are compact devices that provide seamless integration of copper and fiber cabling. They can be deployed in a variety of networks, and typically provide point-to-point fiber connectivity in copper networks.
Ethernet Point-to-Point Media Converter Application
This application example demonstrates how to deploy media converters and provide seamless integration of different Ethernet cabling media. Ethernet copper-to-fiber media converters support a variety of cabling and connectors, different network protocols, and data rates from 10 Mbps to 10G.
A pair of copper-to-fiber media converters is used to connect two copper switches via fiber. A workstation and a server are also connected to the network using pairs of copper-to-fiber media converters.

Ethernet Campus Fiber Media Converter Application
In this application example, 10/100 media converters are installed in a redundant power chassis for high-density fiber distribution from UTP switch equipment (A) at the network core. A UTP workgroup switch (B) is connected via fiber to the network core with a standalone 10/100 media converter. Another 10/100 converter enables fiber connectivity to a PC UTP port in a fiber-to-desktop application (C). An Ethernet switch (D) is connected directly via fiber to the media converter module at the network core. This network application example can support 10/100, 10/100/1000 and 10G data rates.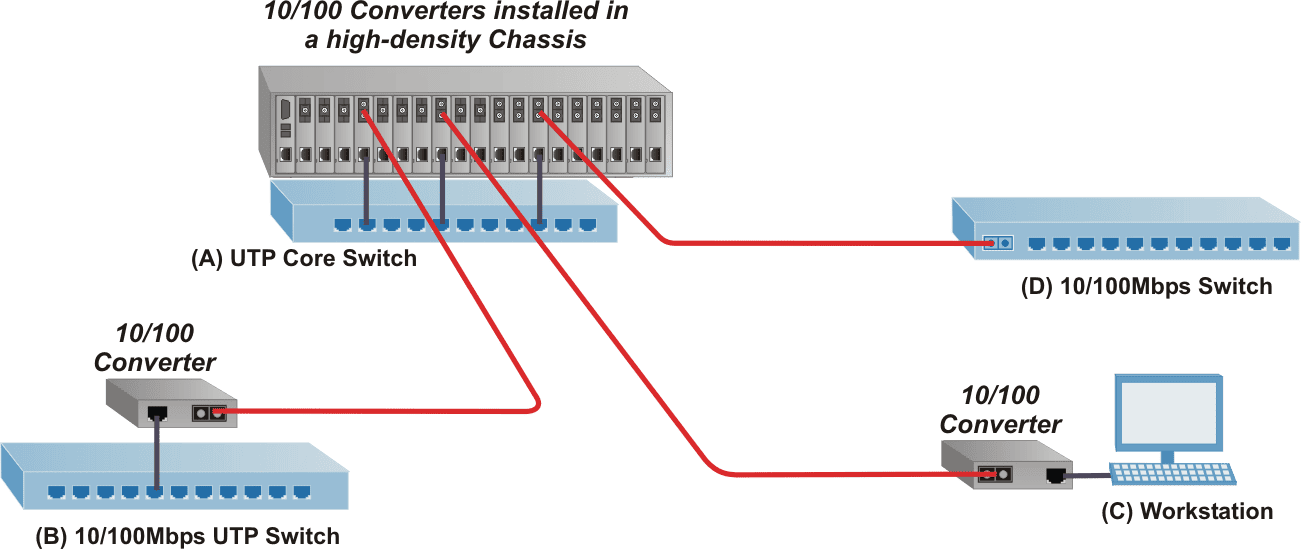 10G Ethernet Media Converter Application
10G media converters provide a variety of 10G data center connectivity solutions, including resolving interface disparities between equipment with 10GBASE-T RJ-45 ports and existing rack servers or switches with fiber optic ports. Architecture changes such as migrating from Top of Rack to End of Row can present cabling challenges when extending network distances from racks of servers.
In this application, fiber cabling is used to extend distances between 10G switches and servers. A Redundant Power Chassis with 10G Copper-to-Fiber plug-in media converters is used to convert the CAT-6A cabling from the RJ-45 ports on the aggregation switch to fiber.

At the other end of the first fiber run, a standalone 10G Copper-to-Fiber converter is used to convert the fiber back to copper for connectivity to a 10G server with RJ-45 ports. The second fiber run connects directly to a fiber port on a 10G switch.
The 10G Copper-to-Fiber converter supports CAT-6A cabling (up to 100 meters) to extend distances to servers, switches and patch panels. For CAT-6A cabling links less than 30 meters, 10GBASE-T Short Reach mode can be used to conserve energy by reducing power and cooling requirements.
How to Use TDM Copper-to-Fiber Media Converters
T1 and T3 copper-to-fiber media converters provide cost-effective demarcation extension of traditional TDM (Time Division Multiplexing) telecom protocols with fiber optic cabling
T1 Media Converter Application
T1 and T3 converters operate in pairs extending distances of TDM circuits over fiber, improving noise immunity, quality of service, intrusion protection and network security. They are typically deployed to provide a reliable and cost-effective solution for extending telecom demarcation points across a business complex or up a high-rise building using fiber optic cabling.
In this application, a pair of T1/E1 media converters is used to extend the demarcation point (hand-off from the Service Provider) to another tenant building with fiber. A variety of fiber types can be deployed, and fiber links can be extended up to 120km using single-mode fiber.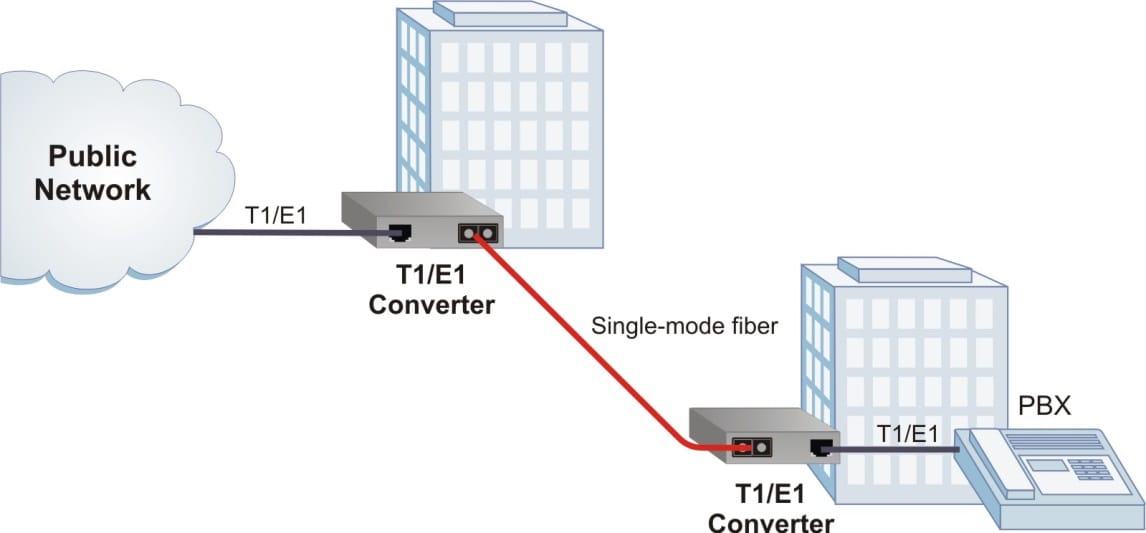 How to Use Serial Copper-to-Fiber Media Converters
Serial-to-fiber converters provide fiber extension for serial protocol copper connections. They can automatically detect the signal baud rate of the connected Full-Duplex serial device, and support point-to-point and multi-point configurations.
RS-232 Media Converter Application
RS-232 fiber converters can operate as asynchronous devices, support speeds up to 921,600 baud, and support a wide variety of hardware flow control signals to enable seamless connectivity with most serial devices. In this example, a pair of RS-232 converters provides the serial connection between a PC and Terminal Server allowing access to multiple data devices via fiber.