The concept of building automation or "smart buildings" involves the integration of a facility's security, access control, communications, HVAC, data, voice, and video into a centrally controlled system with IP-based structured cabling. Smart buildings provide several benefits, including improved safety, reduced labor and operating costs, simplified asset management and energy efficiency.
The convergence of low-voltage building systems involves the use of automation devices such as access control, clocks, messaging systems, HVAC controls and lighting controls that are PoE and PoE+ powered. In large buildings, the distance from the network control room to these devices will often exceed the 100 meter distance limits of UTP copper cabling.
In this application diagram, OmniConverter PoE and PoE+ injector media converters are used to extend distance to building automation devices. Network switches with fiber ports can be used to distribute fiber links from a control room, or a switch with RJ-45 ports can be used with media converters. iConverter, miConverter and FlexPoint media converters can be installed in high-density rack-mount chassis to provide reliable and cost-effective fiber distribution from existing copper network equipment.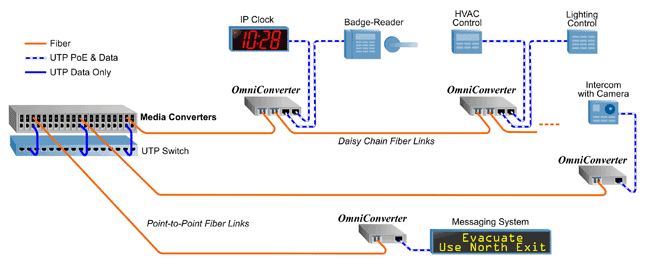 OmniConverter PoE injector media converters with dual fiber ports are deployed in daisy-chain configurations with fiber links running hop-to-hop along hallways or to different floors in the building. The media converters are located near convenient AC or DC power sources and have two RJ-45 ports that provide power to two devices via UTP cabling.
Point-to-point fiber links connect to OmniConverter media converters that power an intercom and a LED message sign.