Extending Ethernet and SONET Ring Network Distances
When fiber rings must extend beyond the standard 1310nm wavelength capability, a longer wavelength with increased optical power can stretch Ethernet and SONET ring distances.
The iConverter xFF fiber-to-fiber media converter and transponder is an inexpensive and reliable solution, especially when compared to upgrading SONET node equipment and Ethernet routers. Small Form Pluggable transceivers provide wavelength conversion from 1310nm to 1550nm, and amplify the optical power to span the distance in longer ring segments. The iConverter xFF is protocol-independent and supports Ethernet, OC-3/12/48, SDH-1/4/16 and Fibre Channel with data rates up to 4.25 Gigabit.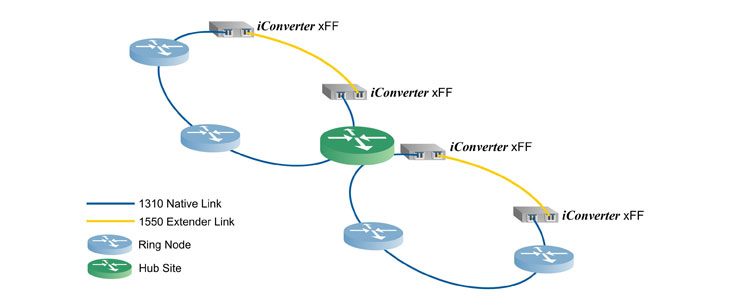 Omnitron fiber-to-fiber media converters, transponders and fiber repeaters provide multimode to single-mode, dual to single-fiber, and wavelengths conversion. Fiber-to-fiber media converters that support SFPs also provide conversion from standard wavelengths (850nm, 1310nm and 1550nm) to CWDM wavelengths that enable connecting legacy fiber equipment to iConverter CWDM Multiplexers.