Carrier Ethernet Demarcation for Cloud Services
Cloud service models such as Software as a Service (SaaS), Infrastructure as a Service (IaaS) and Platform as a Service (PaaS) are a growing market and a revenue opportunity for Service Providers. Cloud services accessed over the Internet have grown in popularity with Enterprises due to the simplicity and lower cost of hosting the infrastructure and applications off site. However, hosting mission-critical cloud applications over the Internet has not been embraced by Enterprises due to the unpredictable performance of the Internet, the security vulnerabilities and compliance challenges.
Carrier Ethernet has become the gold standard for business class services for the Enterprise, and the network infrastructure is now in place to enable private cloud services over a telecom Ethernet cloud network (Wide Area Network). Private cloud services are essentially Enterprise and Government connectivity to one or more on premise and off premise data centers. The Ethernet cloud network can provide predictable service performance, improved security and better control over data governance and regulatory compliance requirements.
In this application example, a Hospital has contracted with a Carrier Ethernet Service Provider for an Ethernet Virtual Private Line (EVPL) service with multiplexed Ethernet Virtual Connections (EVCs) to two Cloud Service Provider data centers. One EVC connects to an on-net Cloud Service Provider's data center for SaaS and IaaS. The Carrier Ethernet Service Provider is partnering with an Access Provider for an E-Access service to transport an EVC to an off-net Cloud Service Provider. The off-net Cloud Service Provider has a HIPPA compliant data center and is providing storage of billing data, medical records and medical images.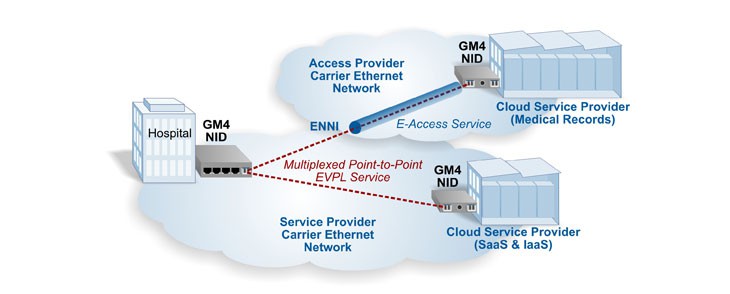 The Carrier Ethernet 2.0 compliant iConverter GM4 Network Interface Devices are deployed at the hospital and at both data centers to enable traffic management, end to end performance monitoring and fault management. iConverter GM4 NID at the Hospital is providing the VLAN-aware service multiplexing for the EVPL services to the on-net data center and to the off-net data center through an E-Access service.
The GM4 NIDs regularly communicate with each other, ensuring the service paths are uninterrupted. Advanced fault management features include support for IEEE 802.1ag Connectivity Fault Management (CFM) for proactive fault monitoring and isolation. Comprehensive support of the ITU-T Y.1731 Performance Monitoring standard ensures the delay, delay variation, loss and availability of the service are meeting the SLA. The Service Provider also deploys Omnitron's Element Management System, NetOutlook® EMS with FCAPS functionality to automate the entire Carrier Ethernet 2.0 service life cycle and simplify the management of the NIDs for the cloud service deployment.