Fiber-to-the-Desk Media Converters
Copper-to-Fiber Ethernet Media Converters
iConverter® Managed Media Converters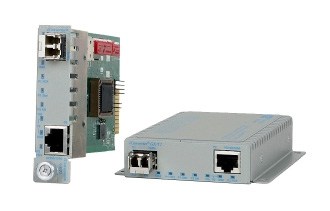 Fiber-to-the-Desk Application
Fiber-to-the-Desk Application Example
Fiber optic technology provides a higher level of signal quality and security than copper UTP. A fiber optic network link is immune to EMI, RFI, cross-talk, ground loops and other electrical problems, greatly enhancing the signal quality in severe environments. Conversely, fiber optic links do not generate EMI or RFI signals that can lead to security breaches like copper UTP. These characteristics make fiber to the desktop/laptop extremely attractive to operators of high-security enterprise and government networks.
High-security networks
Thin Client Virtualization
LAN networks with long distance links to workstations
Field deployed fiber-to-the-laptop where local power is unavailable
Media converters enable fiber-to-the-desktop connectivity, and overcome the challenges installing a fiber optic Network Interface Card (NIC) in each workstation. Media converters are more cost-effective than NIC cards, because they do not require time-consuming installations (including software drivers). Unlike NIC cards, media converters function independently of Operating Systems, so they do not compete for processing resources, and are compatible with all PCs and workstations.
Omnitron's extensive media converter product lines support a variety of network protocols, including 10, 100, Gigabit, and 10 Gigabit Ethernet. This diagram illustrates how the miConverter, FlexPoint and iConverter media converters can be utilized in a variety of fiber-to-the-desk applications.
In the upper left of this diagram, UTP from a core switch is converted to fiber with a high density, iConverter 19-Module Chassis of media converters. This can also be accomplished with a FlexPoint 14-Module Chassis or a miConverter 18-Module Chassis for unmanaged networks.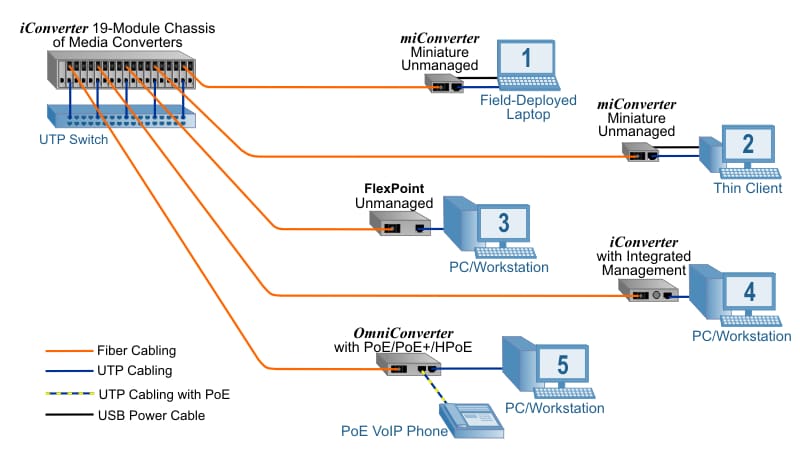 miConverter Miniature Unmanaged Media Converters with USB power
1) Fiber is distributed to a field-deployed laptop computer. A miniature miConverter media converter provides fiber connectivity to the laptop and draws power from the laptop's USB port (USB power cable represented by the black line), and can be attached to the laptop with Velcro. The miConverter is an excellent solution for fiber-to-the-laptop military field operations, portable buildings with limited local power availability, or portable network testing equipment.
2) Fiber is distributed to a Thin Client in an unmanaged network application. A miniature miConverter converts the fiber to copper and provides connectivity to the Thin Client device that does not have a fiber port. The miConverter can be attached to the side of the Thin Client device with a Velcro tab, or can be wall-mounted using optional wall-mounting brackets. The miConverter module is powered directly from a USB port on the Thin Client device, eliminating the need for an electrical outlet and saving energy costs.
miConverter media converters are available in 10/100, 1000 and 10/100/1000 models, and with external AC power supplies.
Learn more about the miConverter miniature media converters
FlexPoint Unmanaged Media Converter Modules
3) Fiber is distributed to a PC or Workstation. An unmanaged standalone FlexPoint module converts the fiber to a UTP cable that is connected to the workstation, and provides cost-effective and reliable fiber connectivity. FlexPoint media converters support 10, 10/100, 1000, or 10/100/1000 networks.
Learn more about FlexPoint unmanaged media converters
iConverter Managed Media Converters and Network Interface Devices
4) Fiber is distributed to a PC or Workstation in a managed VLAN network. An iConverter Network Interface Device, or NID (a media converter with built-in management) converts the fiber to UTP. The network utilizes VLAN technology to segregate application data or management data, and the iConverter NID supports the VLAN tags assigned by the network devices. In addition, the iConverter NID supports port access control for added security, QoS for real time voice/data/video over Ethernet, and bandwidth control. iConverter media converters and NIDs are designed to provide fiber connectivity in managed, high-security networks.
Learn more about iConverter copper-to-fiber managed media converters
OmniConverter PoE/PoE+ Injector Media Converters and PoE Fiber Switches
5) Fiber is distributed to a PC or Workstation and a VoIP phone with Power over Ethernet. An OmniConverter media converter automatically detects whether or not a connected device is a PoE Powered Device (PD), so the VoIP phone receives data and power, and the non-PD Workstation is safely connected to the media converter with data only.
Learn more about OmniConverter PoE Media Converters
Learn more about OmniConverter PoE Fiber Switches
View an OmniConverter Fiber-to-the-Desk Application with multiple desktop devices