new-bg1.jpeg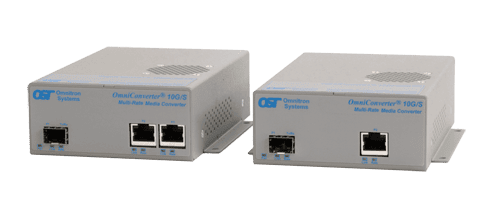 OmniConverter® Multi-Gigabit / Multi-Rate Media Converters




The OmniConverter 10G/S, 10GPoE+/S and 10GPoEBT/S are unmanaged 10G Ethernet media converters featuring one 1/10G SFP/SFP+ uplink port and one or two multi-rate RJ-45 user ports.
OmniConverter multi-rate media converters feature a Small Form Pluggable (SFP) transceiver receptacle port supporting a variety of copper and fiber transceivers. They support 10/100/1000BASE-T, 1000BASE-T, 2.5BASE-T, 5GBASE-T and 10GBASE-T copper transceivers and 1G and 10G multimode or single-mode fiber, dual or single-fiber transceivers in standard, CWDM and DWDM wavelengths.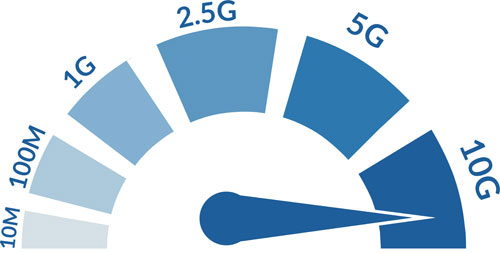 The 10GPoE+/S supports IEEE 802.3at (15 and 30W) and the 10GPoEBT/S supports IEEE 802.3bt (60 and 100W) per user port depending on the model.
The multi-rate/multi-gig PoE media converters automatically negotiate and deliver the power level required by a Powered Device (PD) partner. Depending on the OmniConverter PoE model, the media converter can deliver up to 100 watts of power per port.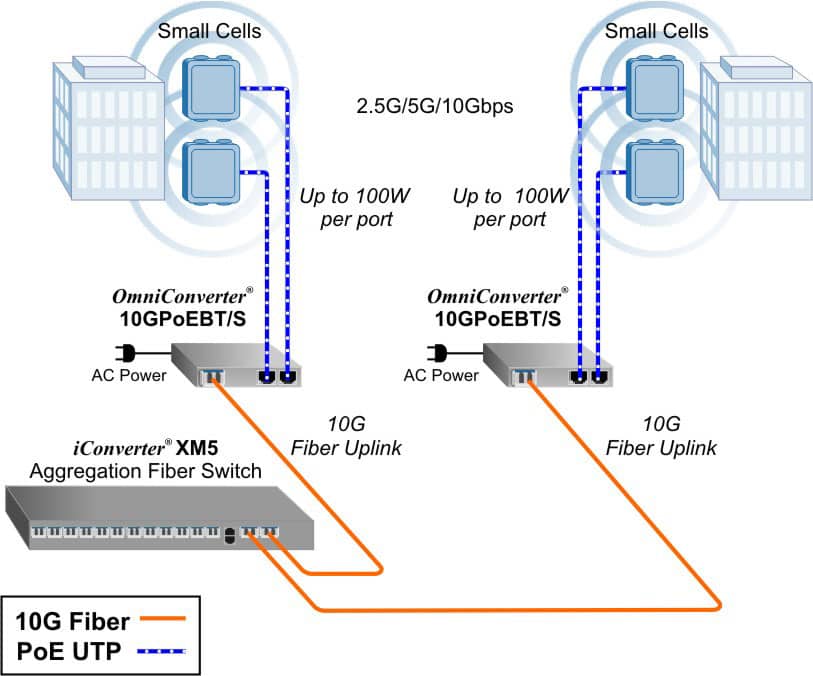 Customers That Trust Omnitron
HomeDepot

American Ailines

Shell

DoD

Nasa

GD

Tmobile

Netflix

EQUINIX

Harvard

NYSE

Toyota

Omnitron Multi-rate/multi-gig Media Converters
Choose a high-quality Multi-rate/Multi-Gig Media Converter from Omnitron Systems to ensure network uptime and long-term reliability.
Unmanaged 10G multi-rate/multi-gig media converters
One 1/10G SFP/SFP+ standard/CWDM/DWDM transceiver uplink port
Supports copper and fiber SFP/SFP+ transceivers
RJ-45 user ports support 10M, 100M, 1G, 2.5G, 5G and 10G
PoE models support IEEE 802.3af, IEEE 802.3at and IEEE 802.3bt (60W and 100W)
Supports jumbo frames up to 10,240 bytes
Multiple port configurations:
2 Port Device: 1 SFP/SFP+ + 1 RJ-45
3 Port Device: 1 SFP/SFP+ + 2 RJ-45
Available with AC to DC power adapter or DC terminal block
Integrated wall mount brackets
Wall, Rack and DIN-rail mountable
Commercial (0º to 50ºC) and wide (-40º to 60ºC) operating temperature ranges
Made in the USA
Lifetime warranty and free 24/7/365 Technical Support
Pre and Post-Sales support with experienced technical specialists
Free 24/7 Technical Support
Block
Resource Center
Blogs, Videos, Data Sheets, User Manuals, Visio Stencils, Product Catalog, Free BICSI CECs
Free Network Design
Schedule a session to review your network design with an Omnitron product specialist