Service Activation Testing
ITU-Y.1564 and RFC 2544 Service Activation Testing
Ethernet business services, mobile backhaul and wholesale services can multiple several applications, including voice, video and business-critical data. These applications require Service Level Agreements (SLAs), and Service Activation Testing provides the methodologies to quickly test and validate Ethernet services prior to handing off the service to the customer. Current methods of testing services are time consuming, and require truck rolls with expensive test equipment.
The iConverter® GM4 Network Interface Device (NID) and the iConverter HybridNID® support ITU-T Y.1564 and RFC 2544 service testing to easily verify the configuration and performance of Ethernet services prior to customer hand off.
ITU-T Y.1564 Service Activation Testing (SAT) is a comprehensive Carrier Ethernet testing standard that tests all data flows and service attributes, including multi-flow Information Rate and Traffic Policing. Y.1564 tests all performance attributes simultaneously so testing is run quickly and efficiently, and can detect potential interaction between data flows.
RFC 2544 provides per-flow testing of Key Performance Indicators (KPI), such as throughput, latency, jitter and frame loss up to full wire speed.
iConverter GM4 NIDs also support third party JDSU and Sunrise test equipment when field testing is required.
Features
Benefits
Built-in Y.1564 and 2544 Test-heads

Eliminates the capital equipment expense (CAPEX) of test equipment and the operational expense (OPEX) for truck rolls
Speeds service activation testing and turn up

Y.1564 testing of Multiple Classes of Service (Multi-CoS)
Enables testing of CE 2.0 services with application-oriented Multi-CoS for SLA assurance
Y.1564 simultaneous testing of multiple EVC or CoS flows

Tests the impact of flows on one another, and ensures that each flow is meeting SLA requirements

Provides faster test results than serial RFC 2544 testing

Non-intrusive (in-service) Y.1564 testing
Enables testing customer traffic after service is activated without disrupting service
Hardware-based Delay and Loopback measurement
Provides nanosecond resolution for testing latency sensitive applications like financial trading
Test-heads support generation/reception of L2, L3 and L4 frames
Provides the flexibility to test L2, L3 and L4 data traffic as a flow (EVC or CoS) from a centralized management location
Test-heads with configurable rate-limiting
Isolates provisioning and network issues
Compatible with third party in-band loopback testing

Ensures reliable and accurate testing with standard JDSU and Sunrise test equipment
Setting the remote NID to loopback enables testing the service with test equipment and technical personnel at only one customer location

Per-port and per-flow Loopback with MAC swap
Enables setting the remote NID to loopback and testing the service across a network path with multiple switches and routers (network cloud)
Three Scenarios in Service Activation Testing
1. Test equipment and personnel at each end of the service
2. Test equipment at one end and the remote NID at the other end. The remote NID can be set to loopback with a loop-up/loop-down protocol.
3. NIDs with built-in 1564 and RFC 2544 Test-heads automatically test the end-to-end service. The NOC operator can initiate and run the SAT remotely.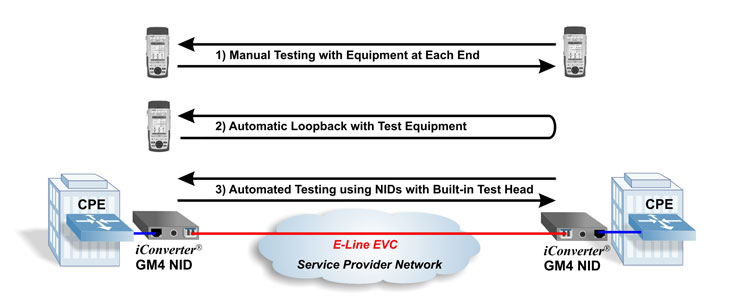 Testing of Multiple Data Flows

Testing can be performed per EVC for single EVC services (Ethernet Private Line) or multiplexed EVCs (Ethernet Virtual Private Line) for any type of Ethernet service. Testing can also be performed per Class of Service (CoS) within an EVC, or L2, L3 or L4 customer data frames.
Simultaneous Y.1564 service testing measures the impact of EVC or CoS flows on one another, and ensures that each flow is meeting SLA requirements. For example, when turning up multiple services with multiple flows, Y.1564 can ensure that data traffic does not affect voice traffic. Simultaneous Y.1564 testing provides faster test results than the traditional RFC 2544 testing, which requires a serial process of each flow being tested one after the other.
Functions of Service Testing

Activation Testing includes generating traffic based upon the Bandwidth profiles configured. Part of the testing includes validation of CIR, the Committed Information Rate or guaranteed performance (Green traffic). After this a combination of CIR and EIR, the Excess Information Rate (Yellow traffic) is tested to validate guaranteed and best effort performance. Finally Y.1564 provides testing of system policers and the ability to handle bursts of data.

iConverter NIDs conform to MEF 23.1 Class of Service Performance Objectives that define specific performance metrics for over 20 application types, including Mobile Backhaul, VoIP, Video Conferencing, Financial Services and Cloud Services. MEF 23.1 is part of Carrier Ethernet 2.0, and expands on ITU Y.1731 performance metrics and include Frame Delay, Mean Frame Delay, Frame Delay Range, Frame Loss Ratio and Inter-Frame Delay Variation.
1564 vs. 2544
Many Carrier Ethernet equipment vendors have integrated RFC 2544 for testing Ethernet services. The Internet Engineering Task Force created RFC 2544 in 1999, but it is an intrusive test designed for testing new network equipment, not Ethernet services with Multi-CoS. RFC 2544 does not specify how to measure delay variation (jitter), so some vendors have implemented proprietary and non-standard mechanisms to overcome these limitations. Each RFC 2544 test is performed independently and in a serial process, so testing can take hours.
Y.1564 Service Activation Testing is a standard specifically designed for Carrier Ethernet and tests the Y.1731 metrics of Ethernet Virtual Connection (EVC) or Classes of Service (CoS) flows. Y.1564 testing is non-intrusive, and can test multiple flow simultaneously.