Irvine, CA – September 25, 2017 – Omnitron Systems (www.omnitron-systems.com), a leading provider of fiber connectivity products, today introduced its managed and unmanaged RuggedNet™ industrial PoE fiber switches and OmniConverter™ enterprise PoE fiber switches that enable fiber optic distance extension to PoE and PoE+ powered devices.
In the News
Cabling Installation & Maintenance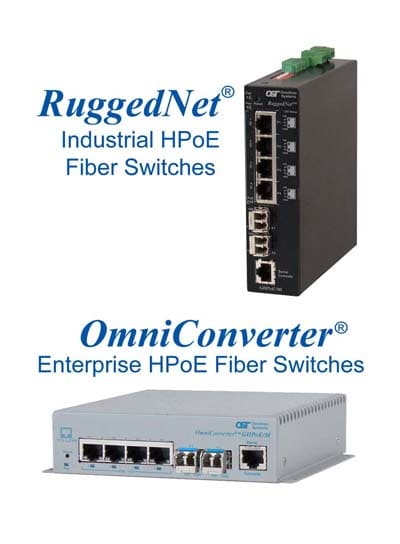 "The introduction of the RuggedNet industrial switches and the enhancements to the enterprise OmniConverter line provides our resellers and end users the ability to deploy multiple PoE powered devices such as Wi-Fi access points, small cells or IP cameras at any distance from the network equipment," said Sankar Ramachandran, Omnitron's Product Marketing Director. "Also, being made in the USA and TAA compliant, both product families meet the stringent security requirements of our enterprise telecom and government customers."
Both the RuggedNet and OmniConverter PoE fiber switches feature four or eight 10/100/1000 RJ-45 ports capable of delivering 15.4W PoE or 30W PoE+ to all ports, and one or two fiber Gigabit ports. They are classified as Power Sourcing Equipment (PSE) and provide full PoE+ power for up to eight Powered Devices (PDs).
RuggedNet industrial PoE fiber switches are standards-compliant ruggedized network switches that are temperature hardened to -40º to 75ºC, and designed for deployments in manufacturing, transportation, energy, and IoT applications. They can be DIN-rail mounted, and feature single or dual DC power inputs and contact closures that can generate alarms.
OmniConverter PoE fiber switches are designed for standard enterprise network deployments. They can be wall or DIN-rail mounted, and are powered using external 100 to 240VAC power adapters.
Both the RuggedNet and OmniConverter PoE fiber switches are available in managed and unmanaged models. The managed models can be managed via an IP-based web interface, Telnet or serial console interface. The IP-based web management provides the ability to monitor status and configure hardware parameters using a web browser.
Both the RuggedNet and OmniConverter PoE fiber switches support specialized networking modes for efficient delivery of data traffic, including Directed Switch Mode and Dual Device Mode. Directed Switch Mode prevents port flooding by routing multicast traffic, such as video, only to its destination ports. Models with two fiber ports support Dual Device Mode that enables the device to operate as two separate and isolated PoE switches with independent fiber uplinks and RJ-45 ports.
Models with two fiber ports also facilitate daisy chain topologies and fiber link redundancy and protection with less than 50ms failover. All models feature remote PoE port reset feature that eliminates the need for dispatching technical personnel to remote locations to physically reset PDs such as cameras and wireless access points.
Both product lines are available with SC, ST and LC fixed-fiber connectors, or with Gigabit Small Form Pluggable (SFP) transceiver sockets to support multimode or single mode fiber, and a variety of CWDM and DWDM wavelengths.
All RuggedNet and OmniConverter products are made in the USA and TAA compliant, and are backed with free 24/7 technical support.
About Omnitron Systems
Omnitron Systems designs and manufactures fiber connectivity products that extend network distances, enable copper and fiber network integration, and expand the capacity of Ethernet and TDM fiber infrastructure. Omnitron's switches, Network Interface Devices, media converters, CWDM/DWDM and TDM multiplexers are deployed in enterprise, government, telecom and cable networks worldwide. For product and reseller information, contact the sales department at Omnitron Systems by phone at 800-675-6410 or 949-250-6510, or by e-mail at This email address is being protected from spambots. You need JavaScript enabled to view it..
# # #
OmniConverter and RuggedNet are trademarks of Omnitron Systems Technology, Inc.
Contact:
Ty Estes, Marketing Communications Director
949-250-6510