Irvine, CA – August 31, 2016 – Omnitron Systems announced the launch of the iConverter® microNIDTM, a low-latency, compact and cost-effective Network Interface Device (NID). The microNID enables Service Providers to easily deploy SLA-guaranteed business Ethernet, 4G/LTE macro cell and small cell backhaul services.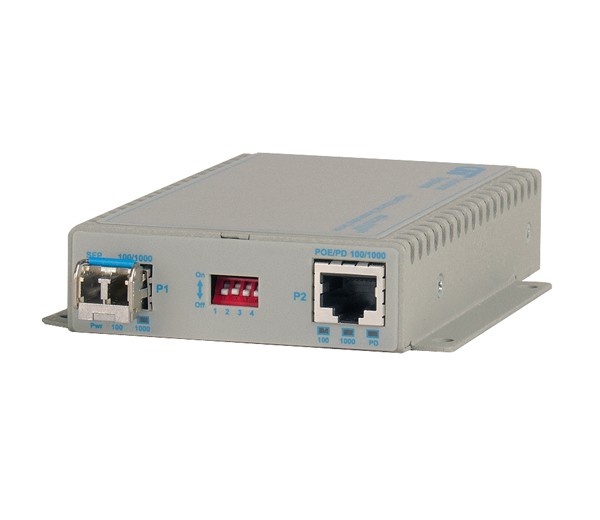 "On one hand, unlike standard Network Interface Devices which operate in a Store and Forward' mode, the microNID operates in a 'Cut Through' mode minimizing its latency and enabling Service Providers to deliver and monitor the performance of extremely low latency premium services for time critical financial applications", said Steve Mood, Omnitron's CTO. "On the other hand" Mood continued," the microNID enables Cable MSOs to deliver Carrier Class monitored Business and Backhaul services over their existing DOCSIS networks with guaranteed Quality of Service."
The microNID supports up to 64 simultaneous Ethernet Virtual Connections (EVCs). Class of Service (CoS) Performance Monitoring and Fault Management per EVC are accomplished by utilizing hardware-based ITU-T Y.1731 and IEEE 802.1ag protocols. The microNID operates as a Maintenance End Point (MEP) for end-to-end fault management or as a Maintenance Intermediate Point (MIP) for fault isolation.
The microNID features built-in ITU-T-Y.1564 and RFC 2544 test heads and supports full wire speed multi-flow Service Activation Testing of throughput, latency, jitter and frame loss. The microNID also supports third party test equipment loop up/loop down activation.
The two-port microNID is available with two SFP ports, two RJ-45 ports, or one SFP and one RJ-45 port. The SFP port supports 100M or 1000M fiber and 100/1000BASE-T copper transceivers.
The microNID can be powered with an external AC/DC power adapter, with direct DC power, or with Power over Ethernet (PoE). It supports redundant power using a combination of PoE power and AC/DC or direct DC power sources.
The microNID can be managed through a serial console port, Telnet, or SNMPv1/v2c/v3. It is integrated into Omnitron's NetOutlook® EMS (Element Management System).
About Omnitron Systems
Omnitron Systems is a leading innovator and manufacturer of MEF Carrier Ethernet 2.0 certified demarcation and aggregation network devices, optical light wave CWDM/DWDM Multiplexers and add/drop devices and Legacy TDM over Ethernet hardware. Omnitron's products are deployed in Cable MSO and Telecom Service Provider networks worldwide to deliver business, data center, cloud, mobile backhaul, small cell and Wi-Fi services. For more information, contact Omnitron Systems at 800-675-6410 or +1 949-250-6510, or by e-mail at This email address is being protected from spambots. You need JavaScript enabled to view it..
# # #
iConverter®, NetOutlook® and microNIDTM are trademarks of Omnitron Systems Technology, Inc.