In this application example, a Gigabit switch with copper RJ-45 ports is connected to remote servers and workstations with fiber.
A 1U high iConverter 5-Module chassis is installed in a network rack with a Gigabit switch. Four iConverter GX/TM2 plug-in media converter modules are installed in the chassis, and provide managed copper-to-fiber conversion. The GX/TM2 plug-in media converters (also known as Network Interface Devices) feature built-in SNMP management for remote configuration, fault management, and VLAN with Quality of Service.

GX/TM2 media converters support a variety of fixed fiber connectors, or they can use Small Form Pluggable (SFP) transceivers. The four fiber links shown can be dual or single-fiber, multimode or single-mode, and can run to remote locations up to 160km away.
Two GX/TM2 standalone media converters connect the copper ports on the servers to the fiber links.
Two more GX/TM2 standalone media converters connect workstations to the switch, enabling Gigabit fiber-to-the-desktop.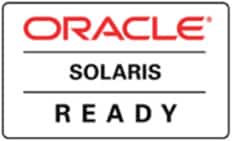 iConverter chassis and gigabit media converters are certified Solaris Ready, and provide an ideal solution for gigabit fiber connectivity to Solaris servers and workstations with copper-to-fiber or single-mode to multimode fiber conversion.
Note that FlexPoint or miConverter media converters can also be deployed in unmanaged applications.