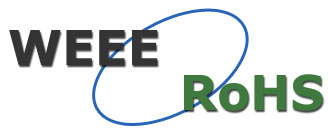 RoHS Compliance Statement
All Omnitron Systems Technology's products for shipment to the European Union are available in compliance with the European Union Decision of June 8, 2011, Directive 2011/65/EU, on the Reduction of Hazardous Substances (RoHS2), which took effect January 2, 2013.
RoHS restricts the use of lead, mercury, cadmium, hexavalent chromium and two bromine-containing flame retardants: PBB (polybrominated biphenyls) and PBDE (polybrominated diphenyl ethers) in electrical and electronic products placed on the European Market.
Omnitron Systems Technology's initiative to comply with the RoHS Directive is part of the company quality design engineering process, which includes design for environment, reduction in the use of hazardous materials, recycling, and supplier responsibility.
WEEE Compliance Statement
The European Union has adopted Directive 2002/96/EC on Waste Electrical and Electronic Equipment (WEEE), with requirements that went into effect August 13, 2005. WEEE is intended to reduce the disposal of waste from electrical and electronic equipment by establishing guidelines for prevention, reuse, recycling and recovery.
Omnitron Systems Technology has already modified its practices and processes to conform to the requirements since the Directive took effect.
If you have any questions about Omnitron Systems Technology's efforts to achieve RoHS and WEEE compliance, please
e-mail your question to [email protected].