Conversores de medios gestionados iConverter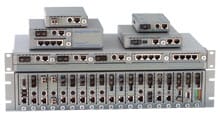 La familia de conversores de medios gestionados iConverter de Omnitron es adecuada para redes de área local (Local Area Networks, LAN) y redes de áreas metropolitanas (Metropolitan Area Networks, MAN) en las que se requieren conversiones de cables de cobre a fibra y de fibras multimodo a fibras monomodo. La gestión remota global se encuentra disponible a través del software para gestión de protocolo de administración de red simple (Simple Network Management Protocol, SNMP) NetOutlook de Omnitron, cualquier software de gestión de SNMP de terceros, Telnet o conexión serial.
Conversores de medios sin gestión FlexPoint™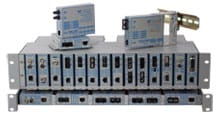 Los conversores de medios FlexPoint de Omnitron proporcionan conversión entre distintos tipos de cableado según el cambio de sus necesidades de alambrado. El mismo módulo de conversor de medios puede utilizarse de forma autónoma, montado en pared, montado en bastidor o instalado en nuestro chasis de alimentación eléctrica redundante.
Conversores de medios sin gestión miConverter™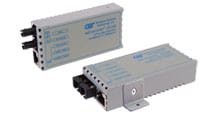 El conversor miConverter tipo miniatura es un conversor de medios de cambio de velocidad de cable UTP de cobre a fibra que proporciona conectividad de fibras económica desde la base de red a una computadora de escritorio o una computadora portátil.
Omnitron SFP Transceivers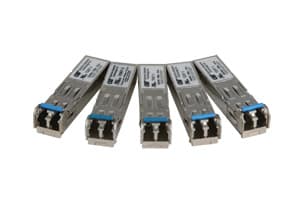 Omnitron's Small Form Pluggable (SFP) transceivers are interchangeable compact media connectors for standard and CWDM wavelengths that enable a single network device to connect to a wide va­riety of fiber and copper cable types and distances. CWDM SFPs increase network capacity by transmitting multiple data channels using widely spaced, separate optical wavelengths (1270nm to 1610nm) in the same fiber pair.