Small Cell Demarcation for a Cable MSO Network
In this application example, a Cable MSO with a DOCSIS Provisioning of EPON (DPoE) network provides small cell (metro cell) coverage and Wi-Fi offloading. EPON networks are a cost-effective alternative solution to HFC, but the challenge lies in integrating network management into the DOCSIS OSS and simplifying the deployment of Carrier Ethernet demarcation devices. DPoE networks leverage the advantages of EPON, and enable DOCSIS network management.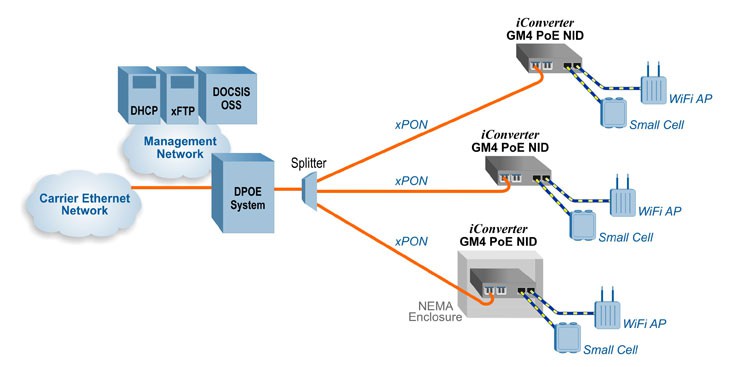 GM4 PoE NIDs are deployed on a DPoE network to provide automated provisioning and testing, performance monitoring and fault management. The GM4 PoE NIDs support the DEMARC Auto-Configuration (DAC) process that enables DEMARC devices to be automatically provisioned, streamlining the deployment of Carrier Ethernet services over DPoE networks. The integrated Power over Ethernet provides power for up to four PoE powered devices (PDs), including small cell antennas, Wi-Fi access points and surveillance cameras. Cable MSOs can now leverage their existing DOCSIS OSS, the bandwidth scalability of PON, Carrier Ethernet functionality and Power over Ethernet to accelerate profitable revenue growth from small cell services.
The GM4 PoE NIDs are installed near available AC or DC sources, and provide PoE, PoE+ or 60W PoE from each RJ-45 port on the NID. Ethernet Virtual Connections (EVCs) are configured from the MSO network to each device, and the GM4 PoE NIDs provide Carrier Ethernet 2.0 certified demarcation at each location.
The small cells are deployed at a variety of locations, including office buildings to sports arenas. The GM4 PoE NID is temperature hardened (-40º to 75ºC) for outdoor use, and both the NID and the power supply can be installed in a weather-proof NEMA enclosure. On-board contact closure monitors the equipment enclosures for unauthorized tampering.
The Carrier Ethernet 2.0 GM4 PoE NIDs supply up to 60W PoE to simplify small cell deployments by eliminating need for PoE midspan equipment or power wiring to the cell. This compact NID with PoE reduces the overall space, power and cost required for outdoor and indoor small cell deployments.
Learn more about DEMARC Auto-Configuration for DPoE Networks
Download the DPoE DAC White Paper at the Carrier Ethernet Resource Center