Demarcation for Small Cells
Service providers are rolling out 4G/LTE in combination with small cells to address escalating bandwidth demand from the proliferation of smart devices. Small cells are a cost-effective solution to increase capacity of wireless networks in high-usage areas inside the coverage area of macro cell towers (hot spots), and add coverage outside the coverage area of macro cell towers (not spots).
The business challenges to large-scale small cell deployments are high equipment costs, and operating expenses associated with complex wireless networks. The technical challenges include the size of network equipment in compact locations, powering the small cell equipment, harsh environments with outdoor deployments, provisioning services, performance monitoring, fault management and timing synchronization.
In this application example, a Service Provider offers small cell (metro cell) coverage in addition to Wi-Fi offloading and video surveillance. Compact iConverter GM4 PoE NIDs are deployed to provide automated provisioning and testing, performance monitoring and fault management. The integrated Power over Ethernet provides power for up to four PoE devices, and eliminates the need for midspan equipment.
The Service Provider is deploying small cells along a fiber ring. The GM4 PoE NIDs are installed near available AC or DC sources, and provide PoE, PoE+ or 60W PoE from each RJ-45 port on the NID. GM4 PoE NIDs are available with two SFP fiber ports, and support G.8032 Ethernet Ring Protection Switching to enable resilient ring configurations.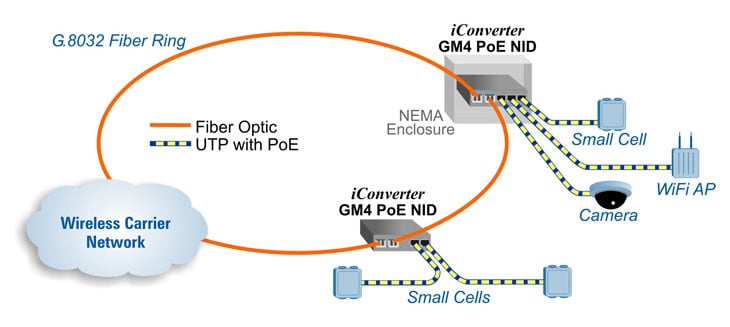 The location at the top of the ring is an outdoor deployment for a small cell antenna at a sports arena. A small cell antenna, a Wi-Fi access point, and an IP surveillance camera are connected to the GM4 PoE NID.The GM4 PoE NID is temperature hardened to -40º to 75ºC, and both the NID and the power supply can be installed in a weather-proof NEMA enclosure. On-board contact closure monitors the equipment enclosure for unauthorized tampering.
The other small cell site on the bottom is located indoors at the sports arena, and the GM4 PoE NIDs provides connectivity to two Small Cells that can be located up to 200 meters away from each other (100 meters with each UTP cable).
Ethernet Virtual Connections (EVCs) are configured from the Wireless Carrier Network to each device, and the GM4 NIDs provide Carrier Ethernet 2.0 certified demarcation at each location.
By integrating Carrier Ethernet demarcation and PoE functions into a single device, Service Providers can easily deploy Wi-Fi hot spots and small cells almost anywhere, reduce equipment costs and overall power consumption. The GM4 PoE NIDs feature Zero-Touch Provisioning, built-in Y.1564 and 2544 test heads to simplify and automate large scale small cell deployments. Comprehensive support for ITU-T Y.1731 Performance Monitoringand hardware-based measurement with nanosecond resolution enable granular Service Level Agreement (SLA) assurances. IEEE 802.1ag Connectivity Fault Management and G.8031 and G.8032 Ethernet Protection Switching enables the delivery of reliable services with uptime guarantees. This compact device with integrated PoE and advanced Carrier Ethernet 2.0 capabilities reduces operating costs, provides faster return on investment (ROI) and improves customer satisfaction.
Smallest full-function NIDs available with 60W PoE
1000Mbps and 100Mbps Carrier Ethernet Fiber Access
Power over Ethernet sourcing of 802.3af (15.4W), 802.3at (25.5W) and up to 60W
Carrier Ethernet 2.0 Certified Compliant
Environmentally hardened with wide (-40º to 60ºC) and extended (-40º to 75ºC) temperature ranges