Carrier Ethernet 2.0 Demarcation for Small Cells
This application example shows how a mobile operator can leverage the advantages of Carrier Ethernet 2.0 backhaul for small cells. One of the features of CE 2.0 is Multi-CoS (Multiple Classes of Service), which enables services within an EVC (Ethernet Virtual Connection) to be differentiated, prioritized and assigned unique bandwidth profiles. Multi-CoS optimizes network bandwidth utilization and provides predictable mobile backhaul SLA performance metrics.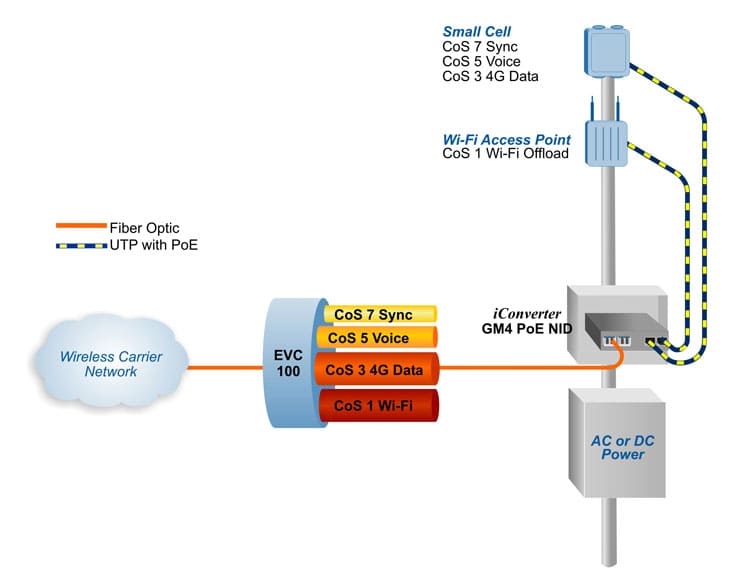 A fiber link to a metro cell location transports an EVC that supports four Classes of Service. Clock synchronization traffic is assigned the highest priority (CoS 7), since it is most sensitive to delay and delay variation. Voice traffic is considered the next highest priority (CoS 5), which is also highly sensitive. Delay and delay variation tolerant 4G Data (CoS 3) and Wi-Fi backhaul traffic (CoS 1) are assigned the lowest priority. By assigning the traffic flows into proper traffic management categories, the operator preserves the required performance across all applications, and improves the quality of experience for end users.
Note that additional Small Cells and WiFi access points can be installed up to 100 meters away from the GM4 PoE NIDs, so one NID can provide CE 2.0 demarcation and power up to four devices.
iConverter CE 2.0 certified compliant GM4 PoE NIDs support advanced Carrier Ethernet 2.0 services and provide integrated Power over Ethernet at the demarcation to power small cells and the Wi-Fi access points. iConverter NIDs perform with ITU-T Y.1564 service testing and Y.1731 performance monitoring for each Class of Service.