PoE Powered Media Converters and Chassis
Omnitron offers PoE powered media converters and chassis that function as powered devices (PD) and can be powered by an IEEE 802.3af compliant Power Supply Equipment (PSE) such as PoE switches and mid-spans.

miConverter miniature
PoE-Powered media
converters provide cost-effective integration of copper and fiber optic cabling, and are part of the miConverter product line of unmanaged Ethernet media converters. miConverter Ethernet media converters can also be powered with a USB power cable, or with external AC/DC power adapters. miConverter miniature PoE powered media converters can be used as compact standalone modules, or installed in a high-density
18-Module Chassis
.
iConverter® Redundant Power Chassis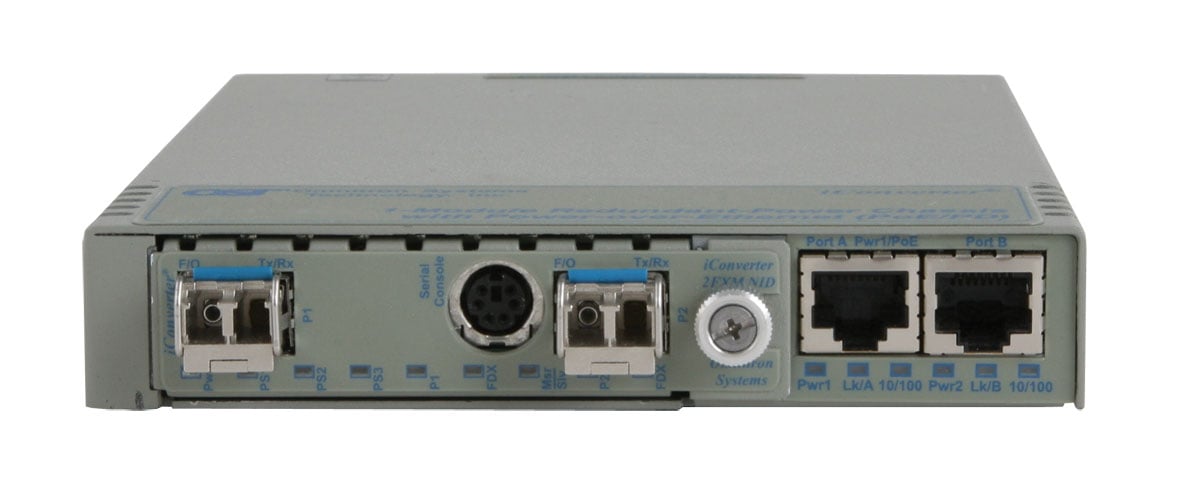 The iConverter 1-Module Redundant Power Chassis is ideal for mission-critical Customer Premises (CP) Ethernet services, and in applications where the monitoring of external events is required. The chassis can be PoE powered through one of the optional 10/100 RJ-45 ports, or with 9-24VDC or 24-60VDC power sources that can be connected via barrel-style or terminal connectors.