Irvine, CA – April 16, 2013 - Omnitron Systems Technology, (www.omnitron-systems.com) a provider of Carrier Ethernet demarcation devices, announces the launch of NetOutlook® EMS that provides Carrier Ethernet 2.0 management and monitoring for iConverter® Network Interface Devices (NIDs). NetOutlook EMS is a carrier class Element Management System that streamlines the provisioning, monitoring and maintenance of iConverter devices in a complex network environment.
"Service Providers delivering Carrier Ethernet 2.0 business services, mobile backhaul and cloud services can now provide faster service deployments and enhanced SLA assurances", said Rammy Bahalul, Omnitron Vice President of Marketing. "NetOutlook EMS reduces operating costs by simplifying network management, and enhances customer experience with proactive fault management and rapid service restoration."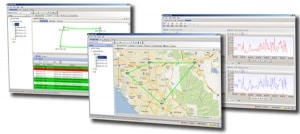 NetOutlook EMS provides automated and highly-scalable management with Fault, Configuration, Accounting/Administration, Performance and Security (FCAPS) functionality for deployments of up to 10,000 NIDs.
Provisioning is performed with an intuitive Graphical User Interface that displays all iConverter NIDs on the network. NetOutlook EMS provides complete configuration capabilities of service parameters, traffic management, SLA assurance and security. iConverter NIDs and third-party products discovered on the network are stored in an infobase and presented in a tree view or a geo-located map view. Bulk provisioning and configuration tasks can be scheduled or performed in real time. NID configuration settings can be backed up and restored on-demand or at user-defined periodic intervals. ITU-T Y.1564 and RFC 2544 Service Activation Testing can be performed remotely with NetOutlook EMS for rapid service activation.
NetOutlook EMS supports real-time monitoring and reporting of SLA-impacting Key Performance Indicators (KPI). Performance statistics are gathered at user-specified intervals and can be plotted in graphical form displayed within the NetOutlook EMS for analysis. Performance data can be analyzed and exported for reporting to third-party applications.
NetOutlook EMS provides advanced alarm management by detecting faults, and threshold crossing conditions in real time. Alarms can be filtered, labeled, sorted for rapid fault isolation, and exported for additional processes. NetOutlook EMS supports standard northbound interfaces for cross application integration with existing Billing Support Systems (BSS), Operational Support Systems (OSS) and umbrella applications.
iConverter NIDs are MEF Carrier Ethernet 2.0 certified compliant to deliver advanced services and provide demarcation at the edges of a network. iConverter NIDs enables rapid service deployments, Service Level Agreement (SLA) assurances and comprehensive fault management.
For more information about NetOutlook EMS and iConverter NIDs, please visit www.omnitron-systems.com.
About Omnitron Systems
Omnitron Systems Technology enables the delivery of Ethernet services over Cable MSO and Service Provider networks, and provides fiber optic connectivity for next-generation enterprise and data center networks. For product and reseller information, contact the sales department at Omnitron Systems by phone at 800-675-6410 or 949-250-6510, or by e-mail at This email address is being protected from spambots. You need JavaScript enabled to view it..
# # #
NetOutlook and iConverter are registered trademarks of Omnitron Systems