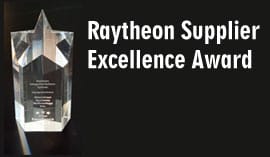 Irvine, CA – November 17, 2008 Omnitron Systems Technology, (www.omnitron-systems.com), a leading provider of fiber optic subsystems for government and carrier Ethernet networks, today announced that it is the recipient of the Raytheon Integrated Defense Systems (IDS) Supplier Excellence Award. This award recognizes Omnitron as one of sixty one of Raytheon's IDS exemplary performing suppliers in 2008. Raytheon recognizes its suppliers based on three important factors: on-time delivery measures, sustained performance on quality and commitment to continuous process and quality improvement.
"I am proud and honored to accept the Raytheon Excellence Award on behalf of the Omnitron team" said Arie Goldberg, CEO and Founder of Omnitron. "This award further exemplifies our commitment to excellence and consistently improved performance and leadership in the industry. The Omnitron team "gets it" that what we design and manufacture matters and producing quality products that work every time matters to our troops in combat who depend on us to complete successful missions and come back home safely."
Established in 1992 and based in Irvine, California, Omnitron Systems Technology designs and manufactures wide range of media converters and fiber-optic connectivity products used in military, carrier and commercial applications. Omnitron's products serve both the domestic and international markets and Omnitron's consistent growth can be attributed to its innovative and quality-oriented engineering and its highly responsive customer service.
Omnitron's products are manufactured in the United States.
About Omnitron Systems Technology, Inc.
Omnitron Systems Technology provides fiber optic access systems for next-generation Ethernet networks, and enables the delivery of managed optical Ethernet services into the existing infrastructure of service provider access and enterprise networks. For product and reseller information, contact the sales department at Omnitron Systems by phone at 800-675-6410 or 949-250-6510, or by e-mail at This email address is being protected from spambots. You need JavaScript enabled to view it.. Omnitron Systems is headquartered in Irvine, California.
# # #
iConverter and NetOutlook are registered trademarks of Omnitron Systems Technology, Inc.
Media contact:
Ty Estes
Director of Marketing Communications
This email address is being protected from spambots. You need JavaScript enabled to view it.