Network Interface Devices are among the first group of MEF CE 2.0 Certified Compliant products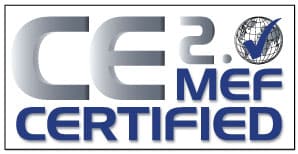 San Diego, CA – January 30, 2013 - Omnitron Systems Technology, (www.omnitron-systems.com) a provider of Carrier Ethernet demarcation devices, today announced that iConverter® Network Interface Devices (NIDs) are certified compliant to deliver Carrier Ethernet 2.0 services. The Metro Ethernet Forum's Carrier Ethernet 2.0 certification was provided by Iometrix, the official MEF certification test lab, where iConverter NIDs achieved accreditation for CE 2.0 by passing hundreds of exacting test cases.
"CE 2.0 extends the capabilities of Carrier Ethernet with multiple classes of service, greater manageability and easier interconnect for eight standard types of services," said Rammy Bahalul, Omnitron's Vice President of Marketing. "iConverter NIDs have been certified to deliver the next generation of Ethernet services, enabling application-oriented Service Level Agreements, and optimizing LTE mobile backhaul and cloud services."
"The achievement of the CE 2.0 equipment vendors is a testament to their commitment to outstanding delivery to the Carrier market," said Ihab Tarazi, Verizon Vice President of Global Planning and Technology and MEF Chairman of the Board, "MEF CE 2.0 standards will enable carriers to choose equipment vendors with greater speed, clarity and certainty."
"CE 2.0 is a highly challenging and significant accreditation to achieve, and it creates an important standard for the marketplace," said Arie Goldberg, Omnitron's CEO and MEF Board Member. "Over the past decade, Carrier Ethernet has become the biggest success story in the telecom industry, and for the first time, Service Providers can leverage the benefits of CE 2.0. Omnitron's iConverter CE 2.0 NIDs enable profitable, value-added revenues with predictable SLA assurance, and reduce operating costs by simplifying the delivery of wholesale services."
Learn More about Omnitron CE 2.0 Certified Network Interface Devices

About Omnitron Systems
Omnitron Systems enables the delivery of next-generation optical Ethernet and TDM services over enterprise, government and service provider networks. For product and reseller information, contact the sales department at Omnitron Systems by phone at 800-675-6410 or 949-250-6510, or at This email address is being protected from spambots. You need JavaScript enabled to view it.. Omnitron Systems is headquartered in Irvine, CA.
# # #
iConverter is a trademark of Omnitron Systems Technology, Inc.