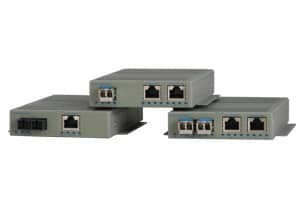 Irvine, CA – October 29, 2010 – Omnitron Systems Technology, (www.omnitron-systems.com) a leading provider of fiber connectivity devices announced a new solution for extending network distances to remote IP security cameras that draw electrical current from Power over Ethernet.
Many IP security cameras use Power over Ethernet technology to receive power over the network cabling, eliminating the expense and difficulty of direct electrical wiring. The challenge is installing IP cameras with PoE in locations that are beyond the 100 meter limit of Unshielded Twisted Pair (UTP) network cabling.
Omnitron's new OmniConverter ™ media converter enables fiber connectivity up to 140 kilometers from video servers and network equipment. The OmniConverter is installed at end of the fiber run, and is located near an AC or DC power source, where it converts the fiber to UTP and injects PoE over the cabling to power the IP Camera. Classified as Power Sourcing Equipment (PSE), the OmniConverter provides power to one or two IP cameras using the same UTP cables that carry the Ethernet data. Applications that require long network link distances to security and surveillance cameras include large school campuses, military bases, energy infrastructure, and transportation (traffic monitoring and signal light enforcement).
"The OmniConverter is the most flexible solution for powering PoE-driven IP cameras, and overcoming the distance limitations of copper network cabling" said Doug Baar, Vice President of Engineering, "and it supports the higher power requirements of today's sophisticated security and surveillance cameras".
A variety of models are available to convert 100BASE-FX or 1000BASE-X fiber to 10/100 or 10/100/1000 UTP. The OmniConverter features dual fiber and dual UTP ports (up to four ports per module) and functions as a power sourcing PoE mini-switch. The OmniConverter supports the IEEE 802.3af standard, and is the first converter on the market to support the new high-power IEEE 802.3at (PoE+) standard. The high-power 802.3at models provide up to 25.5W per port for high-power IP cameras, and cameras that feature integrated lighting, pan-tilt-zoom and de-icing capabilities.
Multi-port configurations enable flexible network designs. Dual fiber ports can be used for redundant links with less than 50ms switch-over time, or for daisy chain and ring topologies. Dual UTP ports support powering two cameras per converter.

Download High-Res Version of this Application
OmniConverter media converters are covered by a lifetime warranty and 24/7 technical support with no service contract fees. For more information about the OmniConverter PoE media converters, and the wide variety of Omnitron fiber connectivity solutions, please visit www.omnitron-systems.com.
About Omnitron Systems
Omnitron Systems provides fiber optic access and demarcation products that enable the delivery of managed optical Ethernet and TDM services into the fiber infrastructure of service provider and enterprise networks. For product and reseller information, visit www.omnitron-systems.com or contact Omnitron Systems by phone at 800-675-6410 or 949-250-6510, or by e-mail at This email address is being protected from spambots. You need JavaScript enabled to view it.. Omnitron Systems is headquartered in Irvine, California.
# # #
OmniConverter is a trademark of Omnitron Systems Technology, Inc.