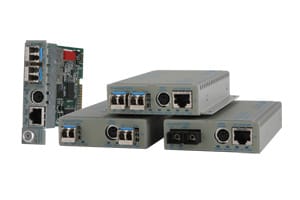 Irvine, CA – December 18, 2008 Omnitron Systems Technology, (www.omnitron-systems.com), a provider of fiber optic access systems for next-generation Carrier Ethernet networks, today announced the latest additions to its iConverter® Network Interface Device (NID) portfolio. The new iConverter GM3 NIDs are carrier-grade, Metro Ethernet Forum (MEF) 9 and 14 certified compliant solutions designed for fiber optic service demarcation in telecom, cable and utility networks.
The iConverter GM3 is a flexible and cost-effective demarcation device that can operate as a Transport NID or as a Service NID for in-franchise and out-of-franchise applications. As a service-transparent Transport NID, the GM3 operates as a remotely-managed media converter with carrier-grade OAM features. As a Service NID, the GM3 supports MEF-certified User-to-Network Interface (UNI) functions such as CoS prioritization, granular rate limiting, and 802.1ad Provider Bridge VLAN stacking for multiple E-LINE and E-LAN services.
In both operational modes, the GM3 conforms to the latest carrier-class Ethernet OAM standards. The 802.3ah Link OAM proactively monitors the network provider's fiber access link and customer's side link for physical failure. The 802.1ag based Service OAM provides End-to-End Connectivity Fault Monitoring (CFM) and Performance Monitoring of frame delay, delay variation (jitter), frame loss, and service availability.
"These OAM features ensure the efficient detection and rapid isolation of potential service problems ensuring Service Level Agreement (SLA) assurance while reducing Operational costs (OPEX) of maintaining the network," said Doug Baar, Omnitron's vice president of Engineering. "while support for CWDM technology helps maximize existing fiber infrastructure to accommodate growing network bandwidth."
The GM3 fiber ports operates with Gigabit (1000BASE-X) or a Fast Ethernet (100BASE-FX) fiber access link by installing an SFP transceiver with the desired data- rate. The triple-speed copper interface operates at 1000, 100 or 10Mbps rate. The GM3 is available in a 2-port or 3-port options. In the 3-port configuration, the GM3 can be used in dual-homing geo-diverse uplink redundancy applications or in multi-customer port multi-tenant application.
The standalone GM3 is available as a DC powered tabletop or wall-mounted unit with an external AC/DC power adapter or a terminal connector.
Additional features include 10,240 byte jumbo frames, a Layer 2 Control Protocol Policy manager, and a comprehensive set of fault propagation modes that detect and indicate link failures, dying gasp and other critical events.
The new iConverter GM3 NIDs have integrated Telnet and SNMPv3 management that can be accessed by Omnitron's NetOutlook® network management software, or third-party SNMP management software. NetOutlook provides comprehensive configuration, monitoring and fault notification tools at an aggressive price point that includes free software upgrades. All iConverter products are covered by a lifetime warranty and 24/7 technical support with no service contract fees.
For more information on iConverter models, visit https://www.omnitron-systems.com/service_provider_solutions.php
About Omnitron Systems Technology, Inc.
Omnitron Systems Technology provides fiber optic access systems for next-generation Ethernet networks, and enables the delivery of managed optical Ethernet services into the existing infrastructure of service provider access and enterprise networks. For product and reseller information, contact the sales department at Omnitron Systems by phone at 800-675-6410 or 949-250-6510, or by e-mail at This email address is being protected from spambots. You need JavaScript enabled to view it.. Omnitron Systems is headquartered in Irvine, California.
# # #
iConverter and NetOutlook are registered trademarks of Omnitron Systems Technology, Inc.
Media contact:
Ty Estes
Director of Marketing Communications
This email address is being protected from spambots. You need JavaScript enabled to view it.