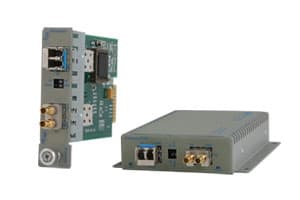 IRVINE, CA – February 10, 2009 Omnitron Systems Technology, (www.omnitron-systems.com), a provider of fiber optic access systems for enterprise and telecom networks, today announced the availability of the iConverter® STM-1 copper-to-fiber media converter. The iConverter STM1 converts the electrical signals from an STM-1 or OC-3 75? coax cable to optical signals on fiber. Ideal for telecom and enterprise applications where STM-1 or OC-3 transport is required beyond the limited distance of coax, the iConverter STM-1 transmits signals up to five kilometers on multimode fiber and up to 120 kilometers on single-mode fiber.
The copper port of the iConverter STM-1 provides two mini-BNC 75? coax connectors that comply with the ITU-T G.703 and Telcordia GR-253 standards for CMI?coded 155.52 Mbps electrical interfaces. Adapter cables are included to convert the mini?BNC connectors to standard BNC type connectors. The fiber port accepts any standard, MSA?compatible 155.52 Mbps Small Form Pluggable (SFP) transceiver. The iConverter STM-1 also supports CWDM SFPs to convert the signal to a specific optical wavelength, and then connect it to a CWDM multiplexer to increase the fiber network capacity.
"The iConverter STM-1 media converter provides flexible STM-1 connectivity by overcoming the distance limitations of STM-1 coax cable," said Doug Baar, Vice President of Engineering. "Its modular design enables scalable fiber implementation with high-density chassis for the network core as well as compact chassis or standalone modules for the network edge."
The iConverter STM-1 is available as a compact, unmanaged standalone unit or a chassis?managed plug-in module. The hot-swappable plug-in module can be mounted in a 19- or 5-Module chassis with any combination of redundant AC and DC power supplies. It also can be mounted in a 2-Module AC or DC powered chassis, or 1-Module chassis with AC or DC power input.
The standalone version of the iConverter STM-1 is wall-mountable. It is DC powered and is available with an external AC/DC power adapter or a terminal connector for direct DC power.
The iConverter STM-1 is backed by a lifetime warranty and free 24/7 technical support. For more information about iConverter products, visit www.omnitron-systems.com.
About Omnitron Systems Technology, Inc.
Omnitron Systems Technology provides fiber optic access systems for next-generation Ethernet networks, and enables the delivery of managed optical Ethernet services into the existing infrastructure of service provider access and enterprise networks. For product and reseller information, contact the sales department at Omnitron Systems by phone at 800-675-6410 or 949-250-6510, or by e-mail at This email address is being protected from spambots. You need JavaScript enabled to view it.. Omnitron Systems is headquartered in Irvine, California.
# # #
iConverter is a registered trademarks of Omnitron Systems Technology, Inc.
Media contact:
Ty Estes
Director of Marketing Communications
This email address is being protected from spambots. You need JavaScript enabled to view it.