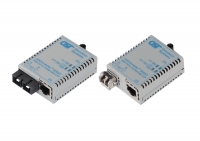 Irvine, CA – August 2 2011 – Omnitron Systems (www.omnitron-systems.com), a provider of fiber optic access systems for next-generation Ethernet networks, today announced the launch of the miConverter™ S-Series, the smallest media converters available today. Weighing less than 2.5 oz. (72 grams), and about the length of a standard house key, the miConverter S-Series provides Gigabit and Fast Ethernet fiber to 10/100/1000BASE-T media conversion, and is designed for mobile applications where light weight, compact size and low power are critical requirements.
These compact and cost-effective media converters can be USB powered, enabling fiber connectivity to locations where AC or DC power is unavailable, such as field-deployed fiber-to-the-laptop and military applications. Fiber is run directly to the laptop, where it is converted to copper UTP and connected to a laptop RJ-45 port with an Ethernet patch cable. Power is supplied to the media converter by the laptop's USB port using a standard USB cable, eliminating the need for an electrical outlet.
The miConverter S-Series is available with 100BASE-FX or 1000BASE-X fixed fiber transceivers (SC or ST connectors), and supports multimode, single-mode and single-fiber options. It also supports Small Form Pluggable (SFP) transceivers for adaptability to different fiber types, speeds, distances, and wavelengths.
The miConverter S-Series is available with a wide operating temperature range of -40 to 65°C for deployments in harsh environments. For applications not utilizing USB power, the S-series is also available with a country specific AC/DC power adapter, providing compatibility with electrical outlet types found around the world.
miConverter is a trademark of Omnitron Systems Technology, Inc.
About Omnitron Systems Technology, Inc.
Omnitron Systems Technology provides a variety of fiber optic connectivity solutions for next-generation enterprise networks, and enables the delivery of Carrier Ethernet services for service providers. Omnitron Systems is headquartered in Irvine, California.