Irvine, CA – June 8, 2015 - Omnitron Systems Technology (www.omnitron-systems.com)a leader in Carrier Ethernet demarcation, today announced the launch of the iConverter® SFP-NIDTM, a Small Form Pluggable (SFP) Gigabit optical demarcation Network Interface Device (NID). The SFP-NID enables Service Providers to easily deploy low-latency, SLA-guaranteed Business Ethernet, 4G/LTE Macro Cell and Small Cell Backhaul Services. With its simple installation into existing network equipment such as switches, routers or small cells, the SFP-NID eliminates the need for a standalone demarcation device, thus saving on capital and installation costs (CAPEX) as well as on the recurring real estate and maintenance costs (OPEX).
"Due to the 1.5 Watts power restriction of the SFP standard, using SFPs as low latency demarcation NIDs has been an engineering challenge in the industry for years", said Steve Mood, Omnitron's CTO. "Using cut-through architecture, our engineers were able to design an extremely low-latency packet transfer at less than 1.5 Watts power consumption; all this while providing full functionality, usability and standard compliance".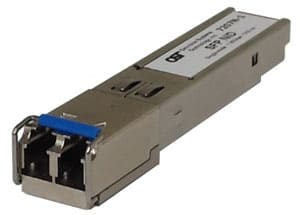 The SFP-NID features up to 64 simultaneous Ethernet Virtual Connections (EVCs). It supports ITU-T Y.1731 standard for Performance Monitoring and provides user configurable threshold detection alerts for delay, delay variation, loss, and availability. The SFP-NID also supports IEEE 802.1ag Connectivity Fault Management, and can operate as a Maintenance End Point (MEP) for end-to-end fault management or as a Maintenance Intermediate Point (MIP) for fault isolation.
The SFP-NID supports ITU-T Y.1564 and RFC 2544 for multi-flow Service Activation Testing of throughput, latency, jitter and frame loss at full wire speed. It interoperates seamlessly with standard conforming network equipment and third-party test equipment. The SFP-NID can be managed through the optical or electrical ports, making it operational anywhere UNI or ENNI functions are required. It can be remotely managed via TELNET, SNMPv1/v2c/v3, and is integrated into Omnitron's NetOutlook® EMS (Element Management System).
About Omnitron Systems Omnitron Systems is a leading innovator and manufacturer of MEF Carrier Ethernet 2.0 certified demarcation and aggregation network devices, optical light wave CWDM/DWDM Multiplexers and add/drop devices, and Legacy TDM over Ethernet hardware. Omnitron's products are deployed in Cable MSO and Telecom Service Provider networks worldwide to deliver Business, Data Center, Cloud, Mobile Backhaul, Small Cell and Wi-Fi services. For more information, contact Omnitron Systems at 800-675-6410 or +1 949-250-6510, or by e-mail at info@omnitron-systems.com.
iConverter®, NetOutlook® and SFP-NIDTM are trademarks of Omnitron Systems Technology, Inc.