Irvine, CA – Feb 13, 2016 – Omnitron Systems (www.omnitron-systems.com), a leading provider of fiber connectivity products, today introduced two new miConverterTM miniature copper to fiber media converters that can be powered with Power over Ethernet (PoE). The new miConverter GX/T PoE/D is a 10/100/1000 RJ-45 to 1000BASE-X fiber media converter, and the miConverter 10/100 PoE/D is 10/100 RJ-45 to 100-BASE-FX media converter.
miConverter PoE/D media converters can be powered with Power Sourcing Equipment (PSE) such as switches or midspans in Fiber to the Desktop applications, and eliminate the need for an additional power adapters.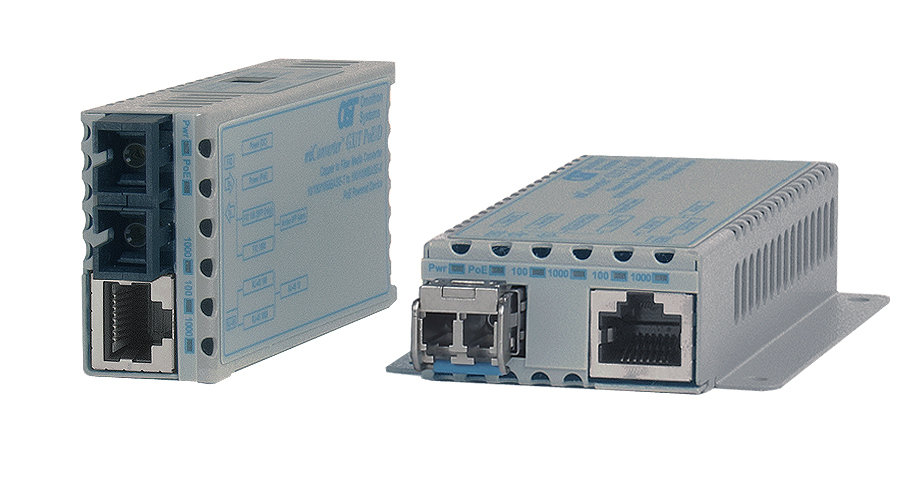 In Fiber to the Premises applications, miConverter PoE/D media converters can be deployed outside a customer premises to provide copper connectivity to indoor demarcation routers, and powered by a midspan located inside the building. This simplifies installations by eliminating the need for outdoor access to power, and the associated costs for electricians or permits.
miConverter PoE/D media converters can also be powered from DC or AC power sources. When powered simultaneously from PoE and power source, the miConverter PoE/D features power redundancy by combining AC or DC external power options with PoE powering.
miConverter PoE/D media converters feature SC, ST or LC fixed fiber connectors and SFP transceivers that facilitate MM, SM fiber types and standard as well as CWDM or DWDM wavelengths. Auto-negotiation and auto-crossover on the RJ-45 port simplifies installations, and fault detection modes can be configured to provide fault identification and isolation for easy troubleshooting of network faults.
The miConverter 10/100 PoE/D is made in the USA, backed with free 24/7 technical support and a lifetime warranty, and supports an industrial temperature range of -40 to 85 degrees Celsius.
The miConverter 10/100 PoE/D is the latest member of the miConverter product family of miniature Fast Ethernet and Gigabit media converters that provide reliable and cost-effective copper-to-fiber conversion.

About Omnitron Systems
Omnitron Systems provides fiber connectivity solutions that extend network distances, enable copper and fiber network integration, and expand the capacity of fiber infrastructure. Omnitron's media converters, CWDM multiplexers and T1 multiplexers are deployed in enterprise, government and service provider networks worldwide. For product and reseller information, contact the sales department at Omnitron Systems by phone at 800-675-6410 or 949-250-6510, or by e-mail at
sales@omnitron-systems.com
.
miConverter is a trademark of Omnitron Systems Technology, Inc.