iConverter Managed-Medienkonverter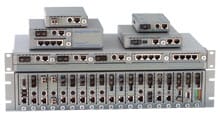 Die Omnitron-Produktfamilie der iConverter Managed-Medienkonverter eignet sich für LAN- und MAN-Netzwerke, in denen Umsetzungen von Kupfer auf LWL und von Multimode- auf Monomodefaser erforderlich sind. Ein umfassendes Fernmanagement steht über die SNMP-Managementsoftware NetOutlook von Omnitron, jede SNMP-Software von Drittanbietern sowie über eine Telnet- oder serielle Verbindung zur Verfügung.
FlexPoint™ Unmanaged-Medienkonverter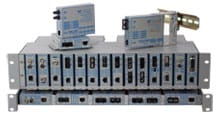 Die FlexPoint-Medienkonverter von Omnitron ermöglichen die Konvertierung unterschiedlicher Kabeltypen, wenn sich Änderungen beim Verkabelungssystem ergeben. Ein und dasselbe Medienkonvertermodul kann als Standalone-Gerät, an der Wand montiert, im Gestell montiert oder eingebaut in unser Chassis mit redundanter Stromversorgung verwendet werden.
miConverter™ Unmanaged-Medienkonverter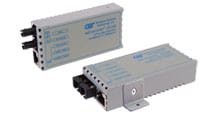 Der Miniatur-Konverter miConverter ist ein Rate-Switching-Medienkonverter mit Umsetzung von Kupfer UTP auf LWL, der eine kosteneffiziente LWL-Konnektivität vom Netzwerkkern zu einem Desktop- oder Laptop-Computer bereitstellt.
Omnitron SFP Transceivers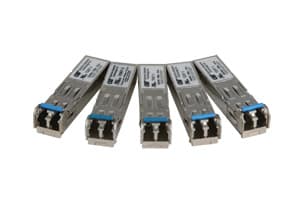 Omnitron's Small Form Pluggable (SFP) transceivers are interchangeable compact media connectors for standard and CWDM wavelengths that enable a single network device to connect to a wide va­riety of fiber and copper cable types and distances. CWDM SFPs increase network capacity by transmitting multiple data channels using widely spaced, separate optical wavelengths (1270nm to 1610nm) in the same fiber pair.