Das Carrier Ethernet entwickelt sich gerade zu der bevorzugten Technologie für den Breitbandzugang von Business-Diensten. Laut Infonetics wächst der weltweite Markt für Ethernet-Dienste bis 2009 auf ein Volumen von 22,2 Milliarden Dollar. Dies ist auf die ständig wachsende Nachfrage nach mehr Bandbreite und transparenten LAN-Diensten (Ethernet Private Line) zurückzuführen.
Optische Demarkation für aktive Faser im Anschlussnetz (Erste Meile)
Die Zugangsverbindung der Ersten Meile ist die Verbindung zwischen Netzwerkrand des Dienstanbieters und CP (Customer Premises). Die aktive Faser unterstützt Gigabit-Datenübertragungsraten auf eine Entfernung bis zu 140 Kilometer und überwindet somit die Einschränkungen bei der Bandbreite und Entfernung, die bei einem Kupferzugang bestehen.
Die User Network Interface (UNI) ist der Demarkationspunkt an den Customer Premises (CP) zwischen Zugangsnetz des Dienstanbieters und dem Kunden-LAN. Die Demarkations-UNI beschreibt die Trennlinie zwischen der Zuständigkeit des Dienstanbieternetzes und des Kundennetzes und stellt Operations, Administration and Maintenance (OAM) bereit.
iConverter-NIDs (Network Interface Devices)
Ein Network Interface Device (NID) stellt den eindeutigen UNI-Demarkationspunkt dar und bietet für das Carrier-Ethernet die entscheidenden Funktionen:
Das NID fügt den Kundendaten die Datentags des Dienstanbieters für die Ethernet-Private-Line-Dienste hinzu.
Es priorisiert die Datentypen des Kunden im Netzwerk des Dienstanbieters, um die Dienstgüte (CoS) zu unterstützen.
Es begrenzt die Datenübertragungsraten entsprechend der von den Anwendern gewünschten Bandbreiten.
Es filtert Layer 2 Protocol Controls heraus und verhindert, dass Spanning-Tree-Informationen in das Netz des Dienstanbieters eindringen.
Es führt verschiedene Medien zusammen, um Anschlussmöglichkeiten für verschiedene Kabeltypen des Netzbetreibers und des Kunden zu schaffen.
Das folgende Schaubild zeigt die Beziehung zwischen dem NID und dem Kern des Metro-Netzes, der UNI und den CPEs. Das NID stellt die Funktionen zur Verfügung, mit denen die Verbindungen der Ethernet-Private-Line-Dienste (E-Line und E-LAN) zwischen zwei oder mehreren Kundenstandorten möglich werden. Das NID ist Bestandteil des Ende-zu-Ende-Ethernet-Datenstroms des Kunden.

An den Customer Premises (CP) konvertiert ein NID die LWL-Zugangsverbindung des Dienstanbieters, sodass sie auf die verschiedenen Kupfer- oder LWL-Schnittstellen an den CPEs (Customer Premises Equipment) umgesetzt werden kann. Das NID ist ein intelligentes, sicher verwaltetes Gerät, das Dienste bereitstellt (Provisioning) und den Netzwerkstatus überwacht. iConverter-NIDs sind mit OAM-Funktionen gemäß 802.3ah-Standard ausgerüstet. Dazu gehören u. a. Fehlerbenachrichtigung und Loopback-Test am LWL-Link zwischen dem Netzwerk des Dienstanbieters und der UNI (User Network Interface).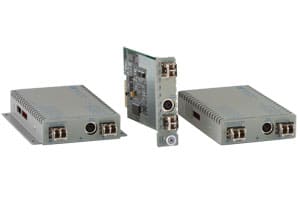 iConverter-NIDs verfügen auch über die erweiterten Funktionen, die erforderlich sind, um Metro-Ethernet-Dienste einschließlich E-LAN und E-Line an der UNI zu ermöglichen. Zu diesen Funktionen gehören u. a. Verkehrsklassifizierung, QoS-Priorisierung, Begrenzung der Datenübertragungsrate und VLAN-Tagging (Q-in-Q oder IEEE 802.1ad S-TAG).
iConverter-NIDs können als Standalone-Geräte oder als Mehrfachmodule in einem Chassis betrieben werden. Die Mehrfachmodul-NID-Systeme bestehen aus iConverter-Modulen, die in einem Chassis eingebaut sind. Hierbei wird die LWL-Zugangsverbindung auf mehrere Kupfer- und LWL-Ports umgesetzt, um entweder Dienste für mehrere Kunden oder einem Einzelkunden mehrere Service-Ports bereitzustellen. iConverter-NIDs dienen auch als Demarkationsknoten für resiliente Ringnetze und unterstützen CWDM-Faserleitungen.
Weitere Informationen über iConverter-NIDs
Die iConverter-NIDs für den LWL-Zugang ermöglichen bei optischen Carrier-Ethernet-Diensten auch Merkmale wie Zuverlässigkeit, Quality of Service und Überwachung der Verbindungsleistung, die für Service Level Agreements (SLAs) unabdingbar sind. Der modulare Aufbau und die erweiterten Funktionen der iConverter-LWL-Zugangsgeräte machen das System für zukünftige Metro-Ethernet-Dienste skalierbar, sodass Netzkapazität und Dienstleistungen ohne Probleme ausgebaut werden können. Das umfassende OAM-Management und Provisioning sorgt außerdem für geringere Betriebskosten.
10/100- und Gigabit-Ethernet
Integriertes SNMP- und (IP-Less) IEEE 802.3ah-Management
OAM-Bereitstellung und Fehlerbehebung gemäß 802.3ah
Umfassende Alarm- und Trap-Benachrichtigung
Small Form Pluggable-(SFP-)Transceiver (Standard und CWDM)
QoS-Priorisierung für Voice-/Daten-/Video-over-Ethernet
VLAN mit Q-in-Q für E-Line- und E-LAN-Dienste
Übertragungsratenbegrenzung (Rate Limiting) für abgestufte Dienste
Port-Zugangssteuerung
Optische Leistungsüberwachung
Kompakte und flexible Demarkationskonfigurationen
Modulare Architektur für Skalierbarkeit
iConverter-NIDs der Carrier-Klasse sind MEF 9-, MEF 14- und NEBS Level 3-zertifiziert.
Für alle iConverter-Module und -Chassis erhalten Sie lebenslange Garantie und kostenlosen technischen 24/7-Support.