Network Interface Device with Dual Management and Provisioning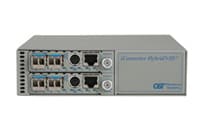 The iConverter HybridNID is a Network Interface Device that enables the delivery of carrier-grade Ethernet services across multiple-operator networks with value-added revenue from independent SLA verification.
The iConverter HybridNID clearly defines the service responsibilities between the Service Provider and the Wholesale Operator. The Wholesale Operator owns, installs, manages and maintains the iConverter HybridNID, which is part of the Wholesale Access Service that is leased by the Service Provider. The Service Provider also has management access to provision the service attributes. Both the Wholesale Operator and Service Provider can monitor Service OAM functions.
Network Interface Device with Service OAM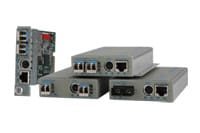 The iConverter GM3 Ethernet Network Interface Device (NID) provides MEF 9, 14 and 21 certified Ethernet service demarcation. The GM3 supports the latest Carrier Ethernet standards covering Link OAM (802.3ah) and end-to-end Service OAM (802.1ag and Y.1731), enabling the delivery of reliable services and SLA assurance across multiple carrier networks. The three-port GM3 features dual Fiber ports or dual copper ports, and supports fix fiber connectors, or SFPs available in Gigabit (1000BASE-X) or Fast Ethernet (100BASE-FX). The GM3 is available as a standalone device or a chassis plug-in module.
PoE Injector Media Converters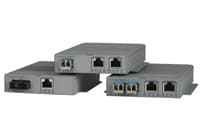 Leverage the benefits of fiber and Power-over-Ethernet (PoE) with the new OmniConverter fiber to UTP media converter. The OmniConverter is the first media converter on the market with models that support the IEEE 802.3af PoE standard (15.4W of power) and the new IEEE 802.3at PoE+ standard (25.5W of power). OmniConverter media converters support a variety of port configurations and can provide power to one or two PoE devices.
10 Gigabit Media Converter and Transceiver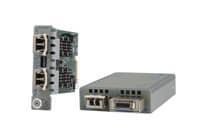 The iConverter XG is a 10 Gigabit, protocol-transparent media converter with two pluggable transceiver ports, supporting any combination of SFP+ and XFP (fiber and CX4 copper) transceivers. The iConverter XG supports 100% traffic throughput with no packet size restrictions, and supports 10 Gigabit Ethernet, 10G SONET/SDH, 10G Fibre Channel and 10G OTN (G.709). It can function as copper-to-fiber converter, a fiber mode converter, a WDM transponder or a fiber repeater.