iConverter-Medienkonverter der Carrier-Klasse und NIDs (Network Interface Devices) ermöglichen Ethernet-LWL-Zugang im Anschlussnetz der "ersten Meile" in LAN-Unternehmens- und Metro-Netzen. iConverter werden verwendet, um die Managed-LWL-Links mit hoher Packdichte vom Central Office bzw. dem Netzwerkkern auf intelligente NIDs zu verteilen, welche mit Kupfer- und LWL-Ports an den Customer Premises oder am Rand des Netzwerks für einen sicheren Übergang sorgen.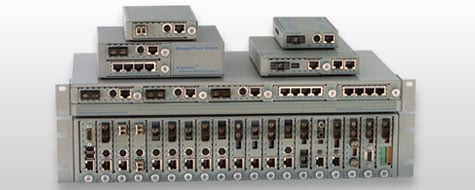 Unterstützte Technologien:
10, 100, 10/100 Ethernet
10/100/1000, Gigabit Ethernet
T1/E1, T3/DS3/E3
OC3/STM1, OC12/ STM4
RS-232/422/485/530, X.21
Modultypen:
Copper UTP to Fiber Optic
Fiber-to-Fiber Coax to Fiber
Redundant Fiber and Copper
Network Interface Devices
CWDM Multiplexers
4-Port Copper Switches
iConverter-Medienkonverter sind entweder verwaltet (managed) oder nicht verwaltet (unmanaged). Bei einem Managed-Konverter ermöglicht das iConverter-Managementsystem die Fernüberwachung des Netzwerkstatus, das Konfigurieren von Hardwareparametern, das Generieren statistischer Berichte sowie das Empfangen einer Vielzahl benutzerdefinierter Traps. Die Managementfunktionen der iConverter-NIDs unterstützen die OAM-Spezifikationen (Operation, Administration and Maintenance) gemäß 802.3ah und das Secure IP-less-Management.
iConverter-Geräte bieten LWL-Anschlussmöglichkeiten, mit der erweiterte Dienste im Vergleich zu herkömmlichen Switches zu erheblich geringeren Kosten umgesetzt werden können. Letztendlich kommt es bei der Bewertung eines Systems nicht allein auf den Anschaffungspreis, sondern auch auf die im Laufe der Zeit anfallenden Betriebs- und Wartungskosten an. Das iConverter-Managementsystem senkt diese langfristigen Ausgaben, da potenzielle Vor-Ort-Serviceeinsätze dank umfassender Remote-Bereitstellung und leistungsfähiger Trap-Benachrichtigungsfunktionen auf ein Minimum reduziert werden.
Im Hinblick auf die neue Generation von Ethernet-Diensten unterstützen iConverter-Medienkonverter und NID-Module unter anderem die folgenden erweiterten Funktionen:
Integriertes SNMP-, Secure IP-less-Management gemäß 802.3ah
OAM-Leitungsüberwachung und -Fehlerbehebung gemäß 802.3ah
VLAN-Switch-Technologie mit Q-in-Q
SFP-Transceiver (Small Form Pluggable) mit CWDM-Technologie
QoS-Priorisierung für Echtzeitkommunikation (Sprache/Daten/Video)
Statistische Erfassung von Glasfaser- und Portdaten zur Leistungsüberwachung
Port VLAN und Port-Zugangssteuerung (Port Access Control) für mehr Sicherheit und flexiblere Konfigurationsmöglichkeiten
Bandbreitensteuerung (Begrenzung der Übertragungsrate)