Video: The Demarcation Calculation – Matching NIDs to Tiered Services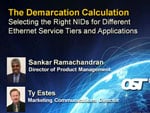 Ethernet services can vary from direct internet access to Carrier Ethernet 2.0 business services with performance and uptime guarantees. In addition, there are 8 different types of Carrier Ethernet services as defined by the Metro Ethernet Forum.
This educational video reviews the different Network Interface Devices available, and how the features and costs align with the different types of Ethernet services. A variety of network deployments are presented with demarcation application examples that show how Service Providers can deploy NIDs that match the appropriate service tier to save equipment costs and deliver profitable services.

Complete the form to the right to view this video.
Video: What is Carrier Ethernet 2.0 – and why should you care?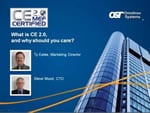 The MEF defines Carrier Ethernet (CE) 2.0 as having three service features: multiple classes of service (multi-CoS), manageability, and interconnect. These three features reflect major new capabilities in Ethernet services and the addition of new service types.
This on-demand webinar is presented by Steve Mood, Omnitron's Chief Technology Officer who oversees development of Omnitron's Carrier Ethernet service demarcation solutions. Steve is a member of the MEF Technical Committee, and editor of several MEF technical specifications, including Standardized Management Service OAM MIBs.
The key differences between CE 1.0 and CE 2.0
The applications and opportunities with the new CE 2.0 Service Types
How to leverage CE 2.0 Multi-CoS to optimize bandwidth resources and deliver application-oriented SLAs for Mobile Backhaul and Cloud services
How CE 2.0 Management features enable global standardized management and simplify EMS integration
How CE 2.0 Interconnect and the new MEF 33 E-Access service streamline wholesale service deployments and increase revenues
Complete the form to the right to view this video.
White Paper: End-to-End Service OAM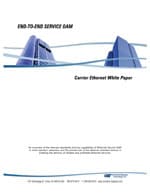 This white paper provides an overview of the relevant standards and key capabilities of Ethernet Service OAM in multi-operator networks, and the pivotal role of the Network Interface Device in enabling the delivery of reliable and profitable Ethernet services. Detailed information is provided on the Service OAM tools included in the IEEE 802.1ag Connectivity Fault Management and ITU-T Y.1731 Performance Monitoring specifications.


Complete the form to the right to download this white paper.
802.3ah Link OAM White Paper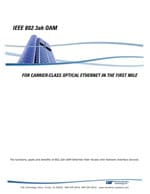 The IEEE 802.3ah Ethernet in the First Mile standard has been developed to bring the OAM mechanisms used in traditional carrier networks to effectively maintain and troubleshoot Ethernet access networks. This paper reviews the fault management and monitoring tools for First Mile fiber links capabilities enabled by the 802.3ah specification.



Complete the form to the right to download this white paper.
EANTC 2012 Interoperability Event White Paper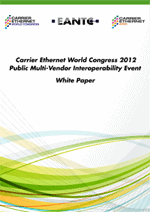 This white paper documents the test results from the multi-vendor Interoperability Showcase organized by the European Advanced Networking Test Center (EANTC). The Interoperability Showcase was presented at the Carrier Ethernet World Congress (CEWC) in Barcelona and Carrier Ethernet APAC in Hong Kong in 2012. Omnitron demonstrated interoperability of the iConverter GM4 Network Interface Device and successfully completed a variety of Carrier Ethernet 2.0 tests relating to Multi-CoS, management and interoperability.
Complete the form to the right to download this white paper.