CPRI Fronthaul Related Products
iConverter xFF
The iConverter xFF is a protocol-transparent managed media converter that provides reliable and cost-effective conversion between different wavelengths, multimode and single-mode, and dual and single-fiber networks. The xFF supports CPRI protocols with data rates up to 8.5Gbps
SFP to SFP Protocol-Transparent Media Converter and WDM Transponder
iConverter CWDM/X Multiplexer/Demultiplexer
iConverter CWDM/X modules are available in 4 and 8-Channel (wavelength) models, supporting a variety of wavelength combinations and port configurations. The Single-Fiber iConverter CWDM/X modules are available in 2 and 4-Channel models. The CWDM/X Pass Band module can be used to cascade two MUX/DEMUX modules, doubling the channel capacity on the common fiber link (up to 16 channels).
4 and 8 Channel Multiplexer/Demultiplexer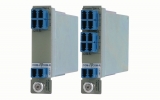 iConverter Single-Fiber CWDM Multiplexers and Add/Drop
MUX/DEMUX and Optical Add/Drop Mux Modules
iConverter CWDM/AD Add/Drop Multiplexer
iConverter CWDM/AD modules add (multiplex) and drop (demultiplex) selected channels, or wavelengths, in one or both directions of a CWDM fiber route. The iConverter 1-Channel CWDM/AD modules multiplex and demultiplex one specific CWDM channel from a common dual fiber or single-fiber CWDM fiber link. The iConverter 2-Channel CWDM/AD modules offer the same functions as 1-Channel CWDM/AD modules but for two specific CWDM channels on fiber pair links.
1 and 2 Channel Optical Add/Drop Multiplexer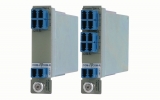 iConverter Single-Fiber CWDM Multiplexers and Add/Drop
MUX/DEMUX and Optical Add/Drop Mux Modules